The Iris ID iCAM TD100 is ideal for environments that require the utmost accuracy, a high-level of security, rapid authentication, and a completely contactless experience.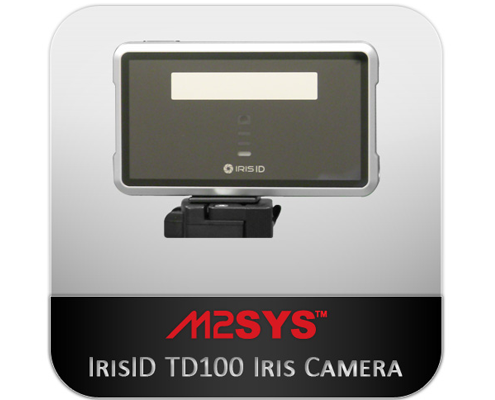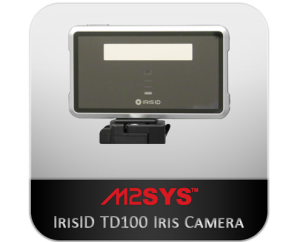 The iris camera quickly processes dual eye image acquisition, encoding, and internal matching. With the ability to quickly and efficiently perform one-to-one (1:1), or one-to-many (1:N) contactless matching in almost any indoor or outdoor environment, the Iris ID iCAM TD100 is an elite iris biometric recognition reader that can be utilized by practically anyone 100% of the time.
An ideal biometric hardware modality for almost any deployment, the Iris ID iCAM TD100 works seamlessly with the M2SYS RightPatient™ and RightPunch™ enterprise software solutions for patient identification and workforce management through an implementation that takes less than 24 hours.
High Speed Dual Iris Capture
Compact and Lightweight
Single Motion Automatic Iris
Single Motion Automatic Face Capture
Intuitive Operator Guidance System
Standards Compliant Hardware and Software
Accuracy: Most Accurate Industry Hardware Modality
Stability: Iris Patterns Do Not Change
Fast: Unmatched Speeds for 1:N Matches
Scalable: Ideal for Large Scale ID Applications
Non-Invasive: No Physical Contact
Category
Description
Dimensions
5.9″ X 3.3″ X 1.2″ (150mm X
83mm X 30.5mm
Weight
0.5lb (0.23 kg)
Power input
5VDC
Power consumption
7W Max
Iris Capture
Automatic Dual Iris Captur
Capture Distance
1600 X 1200 2MP Image Sensor
– 4.62mm @F# 3.2
Face/Scene Capture
Multiband IR 760 nm, 870nm
Iris Illumination
32°F –120°F (0°C – 50°C)
Iris Enrollment
• Less than 2 seconds for
complete iris capture
• Less than 8 seconds for
complete transaction
Operating Range
14″ (36cm)
Operating temperature
32°F – 120°F (0° – 50°C)
Storage Temperature
.4°F –140°F (.20°C –60°C)
Next-Generation Fingerprint Reader Delivering Optimal Security & Reliability with Advanced Finger Imaging and Liveness Detection
Lower your hardware burden with industry's fastest matching system. – 100 million prints/sec in a single server.
Our knowledgeable sales consultants are located worldwide to answer any questions that you have about our identity management technology. Please complete the form below with as much information as you can so we are best prepared to assist you.