Biometric Banking Technology Can Secure Transactions From Anywhere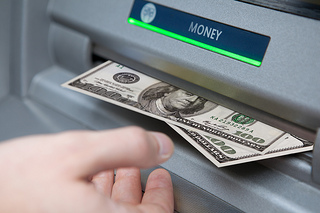 The use of biometrics in banking is increasing because more consumers understand its potential as a predominant method of identifying themselves to access banking services such as branch banking, online banking, ATM networks, and mobile banking.
Why biometrics in banking?
Biometrics is the science of recognizing an individual based on their physical and behavioral traits such as: a fingerprint, finger vein or palm vein pattern, or iris recognition. Biometric-based authentication systems are widely considered to be more reliable than personal identification number (PIN) or password systems for verifying individuals and ensuring they are who they say they are.
The sharp rise in sophisticated bank fraud and the increase in identity theft throughout banking systems has increased demand for a more secure method to identify customers that does not rely on something they have or something they know, but rather who they are. Plus, a significant increase in digital, online and mobile banking services has pushed secure customer authentication to the priority list for most banks and financial institutions. Traditional methods for customer authentication such as passwords, PINs, and tokens are now obsolete, easy to forge, and can't protect consumer information from being compromised.
Lack of security technologies and weak authentication methods often causes devastating financial data breaches, leading to significant financial losses to customers and large regulatory fines levied on financial organizations.  In a 2013 Ponemon Institute Survey, it was reported that the average cost of reconciling bank fraud is $9.4 million for banks. According to the ACI Worldwide Survey, 44% of customer financial accounts have been compromised and 15% of breaches lead to fraud in 2014. Sophisticated technologies such as the use of biometrics for customer identification are a larger part of financial service security strategies to protect identities, financial information, and provide a secure banking experience from anywhere.
How can biometrics secure banking transactions from anywhere?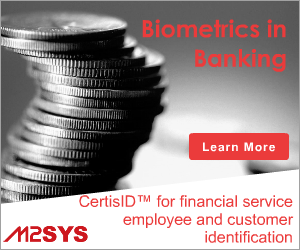 Biometric identification methods are automated and provide fast and accurate customer authentication. Due to the fact that biometric systems can provide optimal identification accuracy and security, the technology is already in use within different industries such as law enforcement, government identity authority and border control agencies as a reliable security tool. As a reliable security tool, biometrics in banking can eliminate loopholes of a banking system that criminals can exploit and has the versatility to secure all financial transactions such as branch banking, internet banking, mobile banking, and ATM networks. Adopting biometrics for customer identification in a banking system secures transactions and brings numerous benefits and a positive impact in this industry.
Biometrics in Branch Banking
Adopting a biometric banking system in branches can provide a convenient way for banks to quickly and accurately authorize customer identities. When customers visit branches they can be authenticated conveniently at the counter through fingerprint and finger vein biometric scanners that match the customer's existing biometric template within the bank database. After successful authentication, the customer will be allowed to move forward with their banking transactions. This will help to maintain a concrete audit trail of every transaction and can prevent fraudulent activity.
For example, the Arig bank of Mongolia introduced biometrics in their banking system with anti-spoofing capabilities to provide optimal accuracy and stronger security in banking transactions. Download this case study for more details!
Biometric Banking System for ATMs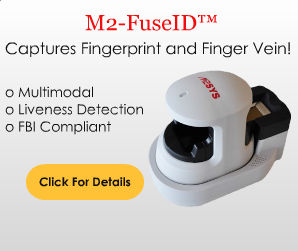 Due to the fact that ATMs are automated and require customer self-authentication, biometric technology in banking ATM networks is the most suitable technology to ensure identification accuracy. Biometrics for customer ATM transactions are already a popular security tool in developed countries and the adoption rate is growing significantly.
Biometric identification is automated and provides faster and more accurate identification, therefore implementing biometrics in banking ATMs can improve the user experience and eliminate the security loopholes of using traditional passwords and PINs to perform a transaction.
Unibank of Haiti integrated biometrics with their core banking system to introduce fast, simple and secure branchless banking facilities throughout the country. Download this case study to learn why they decided to implement biometrics and what benefits have been realized since the implementation.
Biometrics for Online Banking
Online banking is now very popular among consumers because it provides a convenient way to perform transactions from anywhere using smart devices like a laptop, computer, and even smartphones. However, these emerging online banking transactions are highly vulnerable because identity thieves are using high-tech methods to gain access to user information such as passwords, PINs and security questions. Even tokens are not safe to perform online transactions! Implementing a biometric authentication system in the online banking system will help this industry to protect customer's identity and financial information by providing stronger authentication methods like fingerprint scanning, facial recognition, and voice recognition. Due to the fact that biometrics are unique for every individual and cannot be easily forged, it will protect customer information from being compromised by fraudsters. Many computers, laptops, and even smartphones already have webcams, microphones, and fingerprint scanners, offering flexibility for banks to easily adopt biometric authentication for online banking services.
Biometrics in Mobile Banking
Mobile banking is growing rapidly worldwide, and according to Juniper Research, 400 million people performed a mobile banking transaction in 2013. Despite this large number, many bank customers still have a lack of trust over the security of mobile banking platforms and concerns over security. Bank transactions or customer services could be performed through a voice or speech recognition system where customers need to verify their identity using the microphone in their phones.
Conclusion
Banks and financial institutions play a major role in the economic development of a country and the success of banks and financial institutes are largely dependent on customer trust and loyalty. Identity theft and fraudulent activities in banking transactions are hampering this industry's growth. Banks need to come forward to adopt adequate security tools like biometrics in banking that can empower them to provide the highest level of security for every transaction to gain customer trust and avoid regulatory fines. Contact us for a free consultation, if you are planning to implement biometrics in your banking facility.