Automated fingerprint identification system (AFIS)
M2SYS AFIS is for performing large scale processing, editing, searching, retrieving and storing fingerprint templates and subject records.
The M2SYS Biometric Identification System (BIS) is a scalable and customizable automated fingerprint identification system (AFIS) that allows you to perform a wide variety of tasks for processing, editing, searching, retrieving and storing biometric templates and subject records. In addition to our standard AFIS fingerprint system, we offer a multi-modal automated biometric identification system (ABIS) which can combine fingerprint identification with an iris or facial recognition modality.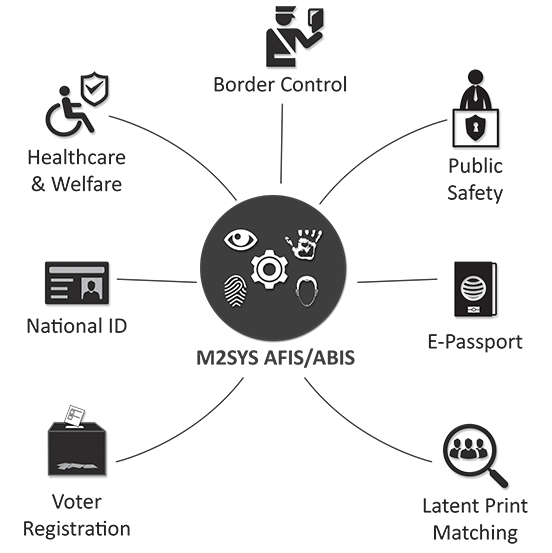 Characterized by the utility to tailor deployment models based on unique needs and market conditions, our military grade system is specially designed to meet government agency requirements and delivers fast, secure and reliable results. The M2SYS AFIS ensures quick and efficient service while providing information safety through the use of fault tolerant architecture, disk mirroring, automated database backups, and disaster recovery options.
Our M2SYS AFIS fingerprint matching software is available as a ready-to-use biometric solution with server hardware or as biometric software that will run on a regular PC. We provide ISO and ANSI fingerprint template standards support and full NIST and FBI IAFIS search compatibility. Our AFIS fingerprint software is capable of supporting tenprint databases ranging from tens of thousands of prints at a local level to millions of prints at a national level. Integrating a deduplication engine with our AFIS fingerprint enrollment software will pre-process enrollment data prior to storage, removing duplicate entries to ensure a unique identity for enrollees.
Plus, our hyper-threaded one-to-many M2SYS SuperServer™ ABIS matching architecture can be scaled by clustering servers to search 200 million irises or 100 million fingerprints per second and also supports facial recognition. Please contact us for more information or a live demo of our automated fingerprint identification system by filling out the form on the right side of this page.
Certifications: FBI, NIST, ISO, ANSI
High powered searching capability
Multitasking environment
Multi-lingual (Any Language)
Extensive database inquiries
Reliability
Multi-level data integrity and access protection
User-friendly dashboard navigation
Scalability
Powerful latent print image enhancement tools
Speed
Searching of both rolled and flat records for finger latent search
Auto image placement on Tenprint/Palm records during scanning operation
Automatic image processing that includes minutiae extraction, quality check, and sequence check
Tenprint vs. Tenprint search with auto-confirm (lights out) function
Tenprint vs. Unsolved Latent search
Finger Latent vs. Tenprint search
Finger Latent vs. Unsolved Finger Latent search
NIST interface for LiveScan workstations
Auto composite record construction
Demographic history
Support of multiple card formats for scanning operations
High functional flexibility and adaptability of the system to the requirements of end users, including country- specific standards
Unlimited possibility for system expansion and subsequent productivity increase

Client: Supreme commission for elections and referendum (SCER)
Industry: Government
Country: Yemen
Use: Biometric voter registration (BVR)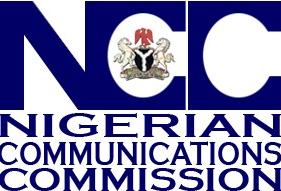 Client: Fingerprint biometric based SIM card registration system
Industry: Government
Country: Nigeria
Use: Register for SIM card purchases

Client: General directorate of population & citizenship affairs
Industry: Government
Country: Turkey
Use: Biometric national ID project
M2SYS provides custom end-to-end turnkey solutions
for all kinds of biometric projects
You can choose any biometric hardware or matching engine and we'll give you the whole "Turnkey" solution.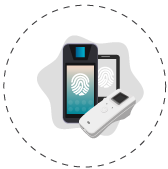 Biometric
capture tool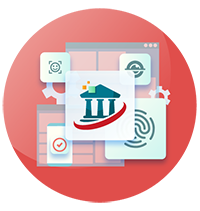 End-to-end
turnkey solutions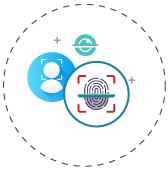 Biometric
matching service
Our knowledgeable sales consultants are located worldwide to answer any questions that you have about our identity management technology. Please complete the form with as much information as you can so we are best prepared to assist you.