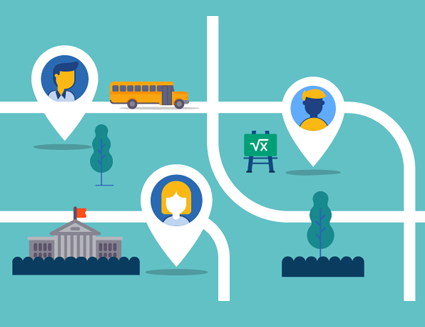 Education institutions around the world face increasing difficulty with antiquated student identification systems that rely on ID cards or paper documents for authentication because they remain easy to exploit by students seeking to falsify their identities. The sheer volume of students needing secure identification along with the pressure to implement systems that offer fast and accurate identification is sparking more interest in using biometrics as a unique student authentication technology.
Responding to the challenge, M2SYS introduces StudentTrack™ – a cloud-based identity management system schools, colleges, and universities around the world to manage, track, and identify students quickly and accurately, anywhere on campus. StudentTrack™ accelerates operational student identity management to support free and fair access to educational resources, eliminate cheating and fraud, and support student parity across the institution.
Built using our patent-pending CloudApper™ modularized cloud application framework that provides end users and strategic partners with unprecedented flexibility in deploying a customized, enterprise cloud-based software solution, StudentTrack™ offers unprecedented flexibility to construct a customized student identity management system based on unique environments and conditions. Possible applications of StudentTrack™ include identification in the following scenarios:
Completely customizable
Multi-Lingual (supports any language including complex languages such as Arabic, Chinese, Thai)
Comprehensive demographic data capture
Biometric data capture supporting fingerprint, finger vein, palm vein, iris, and facial recognition
Mobile/Tablet PC based app supported
Cloud platform reduces IT Infrastructure related costs
Allows supervisors to identify students remotely from anywhere
Database provides detailed student information including past records (if available)
Flagged student list can be easily shared with Law Enforcement Agencies, Associations & other related institutes if required
Central biometric database allows fast access to student information since admissions require 24/7 central data access
Accurate student identification supports strong academic credibility
Web-based rich client interface provides interactive and seamless user experience
Enhanced customization engine allows demographic field customization at any time
Supports text-based, phonetic, fuzzy searching in addition to biometric searches
Works with mobile platforms including Android and iOS to ensure portability
Available in online & offline editions
Download StudentTrack™ brochure

Our knowledgeable sales consultants are located worldwide to answer any questions that you have about our identity management technology. Please complete the form below with as much information as you can so we are best prepared to assist you.