1 Integration, 1 platform, any form of biometrics. The only identity platform you'll ever need!
Using M2SYS' patent-pending Bio-Plugin™ middleware, software developers can integrate Hybrid Biometrics™ in a matter of hours and immediately have the ability to deploy the form of biometric technology that best neutralizes varying user, demographic, and environmental conditions. No more rejected fingerprints!
Why Limit Your Success with a Biometric SDK? Many biometric hardware manufacturers offer an SDK, but it ONLY works with their devices. That means if you develop your biometric matching software using their biometric SDK, you are forever locked into using their devices. In addition, you are forever locked into a single form of biometric recognition! If it doesn't work reliably for all users, or you experience challenges with their biometric hardware, your success rate is greatly limited.
Hybrid Biometric Platform™ Provides Flexibility, Peace-of-Mind, and Insurance. Hybrid Biometrics™ enables you to tailor your deployment model based on the unique needs of your customers and/or end users, and easily switch between four biometric engines without having to install any new software. This unparalleled flexibility produces near 100% read rates for any user, under any condition, and results in the lowest possible total cost of ownership compared to other options.With Hybrid Biometric Platform™, never get locked into a single form of biometrics or a single biometric reader.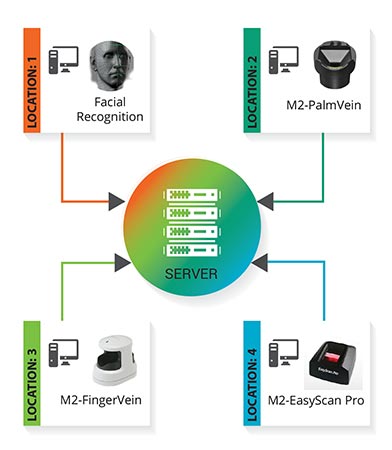 Hybrid Biometric Platform™ System Deployment Model
Just one integration provides access to an enterprise-ready Hybrid Biometrics™ system.
Immediately utilize fingerprint, finger vein, palm vein, voice recognition, and facial recognition or any combination of these modalities.
Never be locked into a single form of biometrics or a single biometric device that might not work reliably for all users.
Ensure 100% read rates, regardless of environmental, demographic, or other conditions that typically affect some forms of biometric technology.
Simple, affordable licensing model.
Fingerprint, finger vein and palm vein scanners
Client: Windows XP, Vista, 7 (32 and 64 bit)
Server: Windows 2000, 2003, 2008 (32 and 64 bit)
Integration into Windows or web applications
Fast and seamless switching between biometric engines
Bio-Plugin integration middleware
Download Hybrid Biometric Platform™ Brochure

Our knowledgeable sales consultants are located worldwide to answer any questions that you have about our identity management technology. Please complete the form below with as much information as you can so we are best prepared to assist you.
With over 17 years of experience in
biometrics & identity management,


our technology is deployed in over 100 countries
Biometric Hardwares
Biometric scanners for fingerprint, fingervein, iris & facial recognition.