November #biometricchat Features @EyeLockCorp to Discuss Iris Biometrics Technology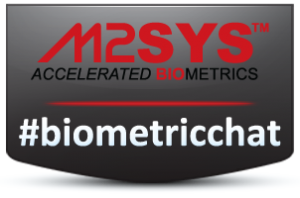 When: November 1, 2012 11:00 am EST, 8:00 am PST, 16:00 pm BST, 17:00 pm (CEST), 23:00 pm (SGT), 0:00 (JST)
Where: tweetchat.com (hashtag #biometricchat)
What: Tweet chat on iris biometrics technology with Jeff Carter, Chief Strategy Officer of @EyeLockCorp
Topics: Differences between iris and retina biometric identification technologies, using iris recognition to identify the unconscious, public acceptance of iris biometrics compared to other biometric modalities, iris biometrics and mobile device user authentication, iris biometrics accuracy compared to other biometric modalities, and more!
Pleased to announce that after a short break, we welcome Jeff Carter (aka @EyeLock_1), Chief Strategy Officer for eyeLock (@EyelockCorp on Twitter) as our guest for November's #biometricchat to discuss iris biometric technology. Jeff brings a wealth of experience on the topic and recently was featured as a TEDx (Technology, Education and Design) speaker on the subject of "Your Eye Will Unlock the World" which you can watch by clicking here.
Iris biometrics is considered by many to be the most accurate biometric modality and recent deployments of the technology at airports for passenger security, in healthcare for patient identification, and in finance for single sign-on to corporate networks has the technology world abuzz about additional potential uses of the technology in other capacities.
The increasing use of iris biometrics for identification and authentication has many wondering more about exactly how the technology works, what are potential future applications of its use in current and new verticals and is it a safe biometric modality? Jeff will join us in the discussion as we address these areas and more.
If you have been curious to know more about iris biometrics, this is your chance to sit in on the discussion and learn more.
Just in case you are interested in participating but are new to Tweet chats, please read this post which outlines the instructions and procedures. We hope that you will join us for the discussion, and please help us to spread the word among your colleagues and friends.
Do you have any questions about iris biometrics that you would like to ask Jeff? Just drop us an email at marketing@m2sys.com and we will try and include them in the chat.
Thanks, and hope to see you next Thursday, November the 1st at 11 am EDT for the #biometricchat!