How Can a Productivity Tracker Help Employees Work More Productively?
Regardless of how big or small your organization is, understanding the productivity level of your employees is essential because a productive workforce makes the entire work process operate more smoothly.
A team of high-performing, productive employees is the foundation of any successful business. According to the most recent data on productivity, productive employees are more engaged and efficient, with operating profits increasing by 21%. Measuring employee productivity allows businesses to analyze overall productivity and make further improvements. Perhaps the most fascinating aspect of work productivity is that it is influenced by a wide range of factors. The use of work tools, teammates, management, and the overall work environment can all impact workplace productivity.
Implementing employee monitoring software with productivity tracking features can offer an excellent approach to measure the productivity of your office or hybrid teams. Having a proper productivity tracking solution to generate employee productivity reports is the best approach for progressing your business.
Fortunately, anyone can take advantage of monitoring software with employee productivity tracking to monitor individual and group user activities. Of course, monitoring employees with software doesn't mean you don't trust them; it's not about tracking employees' logging hours and timesheets. Rather, it provides valuable work data that enables your employees to perform at their best.
How Does an Employee Productivity Tracker Work?
As the name might suggest, employee productivity trackers are monitoring software solutions, designed to boost employee productivity. The feature helps admins assess staff productivity, including time tracking and task tracking capabilities, to identify whether employees are using their working time appropriately and with the necessary efficiency.
Specialist employee monitoring software for productivity usually include features and systems such as:
Time tracking for individuals, teams, and independent workers
Assess time spent on websites and apps
Monitor overall working hours, including working sessions, break times, idle times, and meeting times
Take random screenshots to identify the productivity level of each employee
Generate automatic productivity reports based on the work activity of each employee
Feature an easy-to-understand dashboard and productivity metrics, helping admins to understand employee performance, productive time, and wasted time
How Can an Employee Productivity Tracker Increase Employee Productivity?
Compared to traditional time tracking software, employee productivity tracking software is significantly more effective at measuring and assessing your employees' productivity. Most importantly, the software provides businesses with gold-mine data, long-term statistics, and employee behavioral patterns that they can use to educate employees on how to increase their productivity rates to achieve future success.
Monitoring employee productivity is also important to keep track of remote workers. Monitoring your remote team using tracking software can help to reduce domestic distractions while also increasing team spirit and accountability.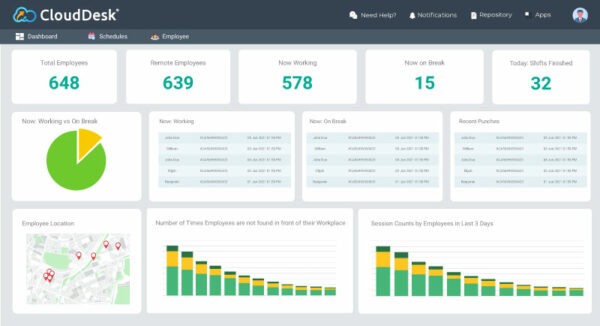 Advantages of Using Productivity Trackers
Reduce Time Wastage: Jonathan Yerby explains in his Online Journal of Applied Knowledge Management that potential productivity losses could be as high as one million dollars for an organization with 500 employees that browse non-work-related websites during the day. Most businesses cannot afford to lose such substantial sums of money. Fortunately, productivity tracking software can assist you in reducing non-work-related time spent on the internet. With features such as real-time activity monitoring, an employer can keep employees on track without always looking over their shoulders. This allows administrators to be more productive with their time while also establishing a foundation of trust between the management and the employee, which benefits everyone.
Reduces Administrative Overheads: The built-in features of productivity monitoring software help automate many of the repetitive but vital administrative tasks. For example:
i) Create timetables and keep track of attendance, breaks, sick hours, late shifts, absences, and more.
ii) Tracks time, activity and productivity of individual employees, reducing the need for manual invoicing and oversight.
iii)Automated work identification based on employee apps and web activity reduces project oversight.
Increases Employee Engagement: Businesses can use historical logs to understand employee productivity trends. The productivity tracking software assists in determining the root causes for disengagement, then systematically addressing the difficulties. For example:
i) By automatically identifying high and low-performance staff, you can save time while writing performance assessments.
ii) Provide automated feedback in real-time, depending on user behavior and activity.
Using Productivity Tracking Software to Increase Productivity in Your Company
Are you ready to take staff productivity tracking and employee management to the next level in your business?
The first step is to guarantee that you adopt employee monitoring software to accurately and efficiently measure employee producitivity to get a better insight into employee work activity. CloudDesk is a cloud-based employee monitoring software that tracks employee productivity. To learn more about CloudDesk, you can take advantage of the Free Trial option.