Cloud-based Biometric System for Hospital HIV Patient Identification
Out of the 34 million HIV-positive people worldwide, 69% live in sub-Saharan Africa. There are roughly 23.8 million infected persons in all of Africa. Throughout the African healthcare industry, various errors can be found to correctly identifying recurring HIV patients. The problem is worse in the largest East African country, Tanzania. Tanzania has 1.4 million people living with HIV.  Every year 33,000 HIV infected people die from the disease. Tanzania, over the years, has rolled out antiretroviral treatment medications to minimize the impact of the country's epidemic. Healthcare facilities across the country are embracing its antiretroviral (ART) programmes, and gradually many people are enrolling with the program since 2010. Significant challenge facilities are facing is hospital HIV patient identification. Incorrect identification of HIT recurring HIV patients can lead to improper intake of medications, schedule miss, overdose, etc. Keeping a proper medical report for each HIV patient is a must and can improve the healthcare services.
Innovations for Poverty Action (IPA) – is a research and policy non-profit that discovers and promotes practical solutions to global poverty problems. It's headquarter is based in the USA, and it operates in 21 countries. IPA has a healthcare facility in Tanzania where hundreds of patients and their visitors come and go every day. The healthcare facility has no physical record of recurring HIV patients as well as visitors, vendors or contractors. With no way of tracking these individuals, the primary challenge was to identifying and verifying recurring HIV patients.
Free Case Study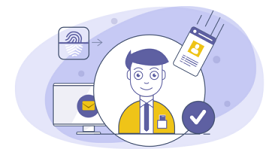 Implementation of Iris Biometrics for Patient Identification at Novant Health
The facility decided to install Biometric FingerPrint Visitor Management System to identify the recurring hospital HIV patient identification and most importantly keep blacklisted individuals out of its premises. Working closely with M2SYS Technology, a leader in the biometrics & identity management industry, the hospital installed VisitorTrack™ – a modern cloud-based biometric Visitor Tracking System, which requires patients to be scanned at the hospital on a terminal, capturing vital medical reports (if he/she is a recurring patient). HIV patients are then issued digital badge which can be used by M2SYS own smartphone app. If a patient has been given antiretroviral medication, he/she are scheduled for the next visit and denied overdose. Patient's relatives can be added to the watchlist to control the visitation. The cloud-based solution can be accessed from anywhere. It significantly increased the efficiency of hospital HIV patient identification system. IPA was also looking for a way to get rid of paper-based log book to minimize errors and cost. VisitorTrack™ Visitor Management software eliminates maintenance & expense of ID cards, printers & kiosks. Now patients are more secure than ever as the facility can quickly search their past visits, date of intaking antiretroviral medications and associated medical reports. The biometrics system simplifies the security check-in process of patients and their visitors with all the others.
The system has been highly instrumental in hospital HIV patient identification of recurring patients at all 4 points of access in the Facilities. The VisitorTrack™ – cloud-based Biometric FingerPrint Visitor Management System has been well received by the administration and is extremely pleased with the results.