August #biometricchat Summary – Using Biometrics to Protect Corporate Data with @BiokeyIntl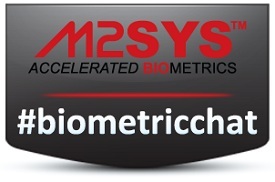 This past Thursday marked August's #biometricchat tweet chat where we discussed using biometrics to protect corporate data with our special guest Scott Mahnken from Bio-key International. Bio-key are experts in developing and deploying biometric single sign-on identification systems to help businesses protect their data and intellectual property.
There has been a lot of news coverage recently about corporation data breaches and hackers taking advantage of weak user passwords to steal data and compromise database security. With the increasing focus on adopting an alternative to passwords, PINs, key fobs, and other conventional methods of identification, more businesses are evaluating the power of biometric technology to protect data, using it as an exclusive single sign-on solution or part of a multi-factor authentication strategy.
We began our discussion with a look at why Scott felt that biometrics were a more viable alternative to PINs and passwords. He offered that many high profile corporate IT professionals are predicting that passwords will soon be replaced by more advanced single sign-on technology (like biometrics). Passwords and PINs can be easily shared, swapped, or stolen whereas biometrics are something you always carry with you and can't be easily shared. Furthermore, resetting passwords can be a tremendous resource drain for IT staff with some predictions that password resets can cost a company anywhere from $15 – $20 per reset and consume up to 40% of a workday.
Millions of dollars per year are lost from corporate data breaches and in 2011, at least 558 data breach incidents cost U.S. businesses more than $6.5 billion. The chat discussion talked about the impact of these losses to businesses and why it's important for them to address the topic of corporate data breaches proactively before hackers can infiltrate a database.
Scott from Bio-key then explained that the healthcare industry just may stand to lose the most from data breaches because of their mission critical work and the sensitivity and importance of protecting patient information. Scott tweeted:
"Managing patient care and the flow of medicines (for healthcare) requires extremely secure and accurate solutions."
Not to mention the fact that hospitals can lose their meaningful use revenue if they fail to comply with patient data protection measures and biometrics can provide security and transaction tracking along with the compliance that medical facilities seek.
The remainder of the chat transcript can be viewed through the Storify summary which can be found here. Our thanks to Scott and Bio-key for being our guest on this month's chat and for all that participated in the discussion! The next #biometricchat will be held September the 13th – stay tuned to our blog for more information and details!