7 Important CMMS Features that Help with Planned Preventive Maintenance
Planned preventive maintenance requires a competent maintenance team, a robust CMMS software solution, availability of spare parts, and frequent inspections, among other things. While all of the factors are important for effective maintenance, most of them are heavily dependent on the maintenance management system used. While many organizations are still using ancient methods like paper-based systems or spreadsheets, others are using outdated CMMS solutions that are inflexible, all of which limit maintenance management efforts significantly. A modern maintenance management system like CloudApper CMMS, on the other hand, streamlines maintenance management and repairs effectively, thanks to a host of useful features.
That being said, here are seven important features that modern CMMS software solutions offer – check out which ones you're missing out on.
7 Features your CMMS Must Have to Streamline Planned Preventive Maintenance
A customizable dashboard
Planned preventive maintenance requires proper coordination of several moving parts – work orders, work requests, the status of assets, time spent on tasks, most affected assets, and so on. Moreover, maintenance managers need to access some of this information at a glance to best understand what's going on at their facilities.
CloudApper CMMS provides a powerful yet easy-to-understand analytics dashboard that provides a bird's eye view of the most important aspects of maintenance management. While different maintenance managers can have different priorities and might want to see different information on the dashboard, CloudApper CMMS's dashboard is extremely customizable – they can customize it themselves and ensure that they receive the most important information with a few taps.
PM scheduling
One of the most important features needed in a CMMS for preventive maintenance is, you guessed it, preventive maintenance scheduling. Since planned preventive maintenance includes activities like recurring maintenance, inspections, servicing, cleaning, etc., they need to be scheduled, assigned, and monitored properly for maximum effectiveness.
CloudApper CMMS ensures effective PM scheduling – maintenance managers can plan, schedule, assign, and monitor maintenance tasks right from their smartphones. For instance, if a machine requires lubrication every three days, maintenance managers can easily schedule the task using CloudApper CMMS, assign a technician to it, and monitor the task as needed. The technician, on the other hand, can easily view the work order from their smartphone, locate the asset, retrieve its work history (if needed), execute the task, update its status, and provide feedback using CloudApper CMMS.
While that was just one example, maintenance managers can easily schedule and manage any and all maintenance tasks using CloudApper CMMS, improving planned preventative maintenance and asset reliability while reducing unplanned downtime.
Customization
Not all organizations have the same maintenance needs – some may be more focused on PM scheduling whereas others might be more inclined towards emergency repairs. Whatever the case may be, conventional CMMS solutions have limited customization options – maintenance managers might even need to make changes to their regular practices to fit the app.
CloudApper CMMS understands that different organizations have different needs, and it also doesn't believe in the one-size-fits-all approach, which is why it's highly customizable. Built using the no-code enterprise app development platform CloudApper, its CMMS software solution can be customized by maintenance managers themselves to meet their specific needs without writing even a single line of code. Maintenance managers can modify modules, add new ones, or remove unnecessary ones to fit their workflow easily using a drag-and-drop editor. Using CloudApper CMMS is the clear choice for organizations that want a solution that fits their workflow perfectly – not the other way around – and helps with their planned preventive maintenance efforts.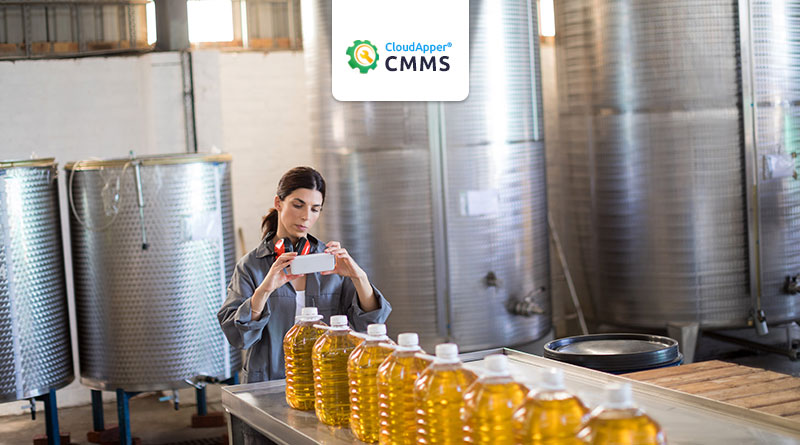 Report generation
Just ensuring equipment maintenance isn't enough – maintenance managers need to measure the effectiveness of their efforts too, something that's required by the organization as well. To meet these needs, maintenance managers need to provide reports that help them (and the organization) with decision-making, identifying gaps or discrepancies, and improving efficiency.
CloudApper CMMS can help maintenance managers generate reports in seconds, including reports for technician performance, completed work orders, asset management, spare parts, and even generate custom reports to meet their specific needs!
Mobile version
Nowadays, everyone is glued to their smartphones or tablets, powerful devices that can do amazing things. Maintenance managers can vastly improve efficiency by utilizing the mobile versions of CMMS solutions. Unfortunately, most mobile versions are locked behind a paywall, requiring a more expensive plan. Moreover, not all of them provide a friendly experience.
CloudApper CMMS is specifically designed for smartphones and tablets since it's built using a no-code mobile enterprise app development platform. Maintenance managers get the same experience on both their smartphones, tablets, and via web browsers on their computers. Authorized users can view the analytics dashboard right from their mobile devices, monitor technician movement, asset status, identify which spare parts are needed soon, and so much more.
Uploading photos and videos
Sometimes, maintenance managers need to look at a specific problem before making a decision – something that can easily be conveyed using a photo or video. Maintenance management solutions that can be accessed from smartphones or tablets such as CloudApper CMMS helps convey what the problem is exactly through the device's camera. For instance, there's a unique problem with a lathe machine that hasn't occurred previously or isn't covered by standard maintenance. The maintenance technician can use CloudApper CMMS from their mobile device to take a photo or video of the problem – something their supervisor can view to understand the issue. Moreover, this is also used for recordkeeping purposes and attached to the equipment exhibiting the problem for future use – helping improve planned preventive maintenance.
QR/barcode scanning
QR and barcode scanning has sped up a lot of processes, and CloudApper CMMS has also utilized it for reducing response times. Instead of ruffling through pages of binders or searching for the solution, maintenance technicians can just scan the barcode or QR code attached to the pieces of machinery to retrieve the specific work history in seconds, saving a significant amount of time. While this might seem like quite a normal feature, it's extremely useful in reducing response times, improving efficiency, and ensuring that the machinery receives the specific maintenance it needs.