3 Steps That Help Biometric Identification Technologies Go Up
Once something we could see in action only in science fiction movies, biometric identification technology is now a proven technology, gradually replacing password-based online security systems. In fact, according to a recent report by Business Wire, the global mobile biometrics market should grow by about $28.45 billion between 2019 and 2023.
The incredible growth of biometric identification solutions is possible due to the need for more effective security solutions. For example, while passwords still remain the world's most common security tool, they certainly don't provide the needed level of protection.
Hackers successfully break millions of passwords every year because many people don't even bother with coming up with a strong combination. Yes, it's not surprising to find that more than 23 million people who had their passwords hacked worldwide used "123456."
Security shortcomings like these drive the adoption of biometric identification. In fact, a lot of well-known companies, including Apple and Samsung, have been working quite successfully in this area, as we're seeing biometric technologies improving customer service, online security, and preventing data breaches.
However, the technology is yet to become mainstream. In this article, we'll talk about 3 big steps that will be taken in the nearest future to expand the adoption of biometric identification.
Step 1: Identity Theft Concerns and a Make Push to Improve Identity Protection
One of the main drivers of biometric identification adoption is the prevention of identity theft. The idea of someone stealing passwords, email addresses, passport numbers, addresses, phone numbers, and other private data isn't as far-fetched as many people hope. Look at the biggest data breaches of 2018 and you'll quickly realize that everyone is at risk.
For example, Marriott Starwood hotels, a part of the world's most famous hotel chains, have lost personal information of 500 million guests to hackers between 2014 and 2018. The data included phone numbers, passport numbers, emails, and credit card numbers and their expiration dates. All of that happened after a group of cybercriminals hacked the company's reservation database and copied huge amounts of data.
So how can biometric identification technology help here?
PIN numbers, credit card numbers, passwords, emails, and other things we use for online security can be misplaced or lost. On the other hand, biometric information can't. Most identification systems based on this technology use robust detection mechanisms that can distinguish between a real and a fake sample.
In fact, even if a cybercriminal employs an image of a real user from social media and uses it to access their account, they won't be able to do that.
Besides, there's no need to remember passwords or carry physical authentication attributes such as tokens.
Step 2: Make Online Payments More Secure and Easier
Mobile eCommerce is booming (it is predicted to comprise about 53.9 percent of all retail eCommerce in 2021), but as far as the payment security and user-friendless go, there are some problems. For example, 30 percent of U.S.-based online shoppers have chosen to abandon their shopping carts because they had to re-enter credit card information, according to Statista data.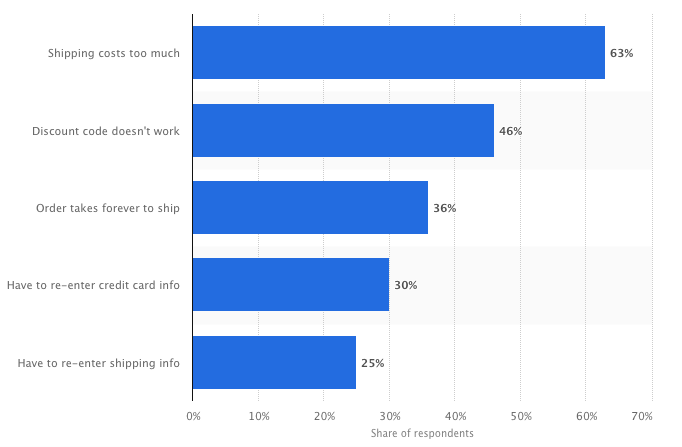 In addition to UX issues, there's a legitimate concern about the security of online transactions, especially those made from mobile devices. eCommerce fraud – this includes both payment fraud and identity theft – is a pressing issue.
With one-third of cybercrime attacks being made against mobile device users and the number of compromised eCommerce transactions, biometric-based protection tools might be the long-awaited solution. In fact, it can resolve both UX and security-related concerns.
"One example of a security issue is fraudulent eCommerce payments," explains Asako Kumagai, an eCommerce analyst at WowGrade. "For online sellers, they cost the amount of the canceled transaction, the cost of offices that processed it, a negative impact on the reputation, and possibly other expenses."
The data from The 2018 Global Fraud and Identity Report suggests that most online businesses experience the same or higher level of losses due to fraud, too.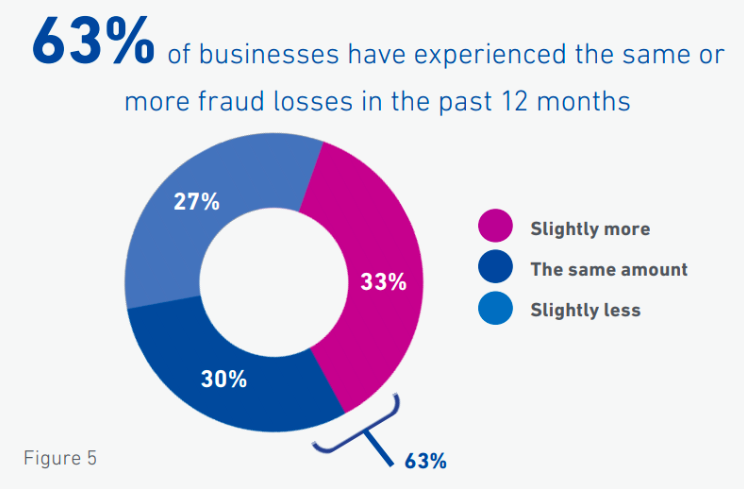 To reduce the risk of eCommerce fraud, online sellers will need to increase the security level, and biometrics is already mature enough to provide this level. For example, it can help businesses recognize real customers and fraudsters and eliminate such unreliable security tools as passwords.
In terms of user-friendliness, biometrics help to advance it by introducing the so-called "invisible payments." Accenture defines them as "payments made without any password, PIN, physical card or device, leveraging on the unique inherent characteristic of each person to make a payment."
According to the same source, biometric-based authentication needed for more secure and user-friendly online payments may grow "exponentially" in the coming decade, as more customers become more comfortable with using it.
For example, PaySafe says that 22 percent of online shoppers already recognize the technology as "the future of line payments," with 23 percent more also acknowledging its benefits.

This also suggests that banks and other stakeholders will need to do their part in raising awareness of the benefits of biometric payment systems, i.e. write guides, bulletins, and other educational materials. To ensure that the message is clear, online writing assistants like Studicus, Grammarly, BestEssayEducation, and GrabMyEssay will likely be used.
With more regulatory bodies now pushing for biometric payments, it's safe to assume that more such systems will be created and implemented soon (that's how the global mobile biometrics market will grow by about $28.45 billion by 2023). As a result, they will eliminate the risk of cards or pin codes being stolen or used by others.
Japan is without a doubt the world leader in biometric payment systems. In addition to numerous biometric ATMs operating in the country, they're also actively working to promote The "Touch & Pay" identification system. It's powered by a fingerprint-based biometrics technology that is 90,000 times more accurate and 300 times faster than the majority of current similar systems.
The "Touch & Pay" system will reportedly be widely adopted across Japan by 2020 when the country will host the Olympics.
Step 3: Addressing Legitimate Concerns
Perhaps the most important step that we need to take to facilitate the adoption of various biometric technologies is to address the concerns that people have over security and privacy. At this point, the awareness of the technology is comparably low plus many have identified such issues as privacy and security.
For example, according to the above-mentioned PaySafe report, 54 percent of online shoppers either view biometrics as "too risky" or are reluctant to use the technology. Another 23 percent say they realize the benefits but still are hesitant because of "security and privacy concerns."
That's why only 3 percent of online shoppers have used biometrics to make payments in the past month. As you can see in the below image, the overwhelming majority still prefer credit cards, digital wallets, and debit cards.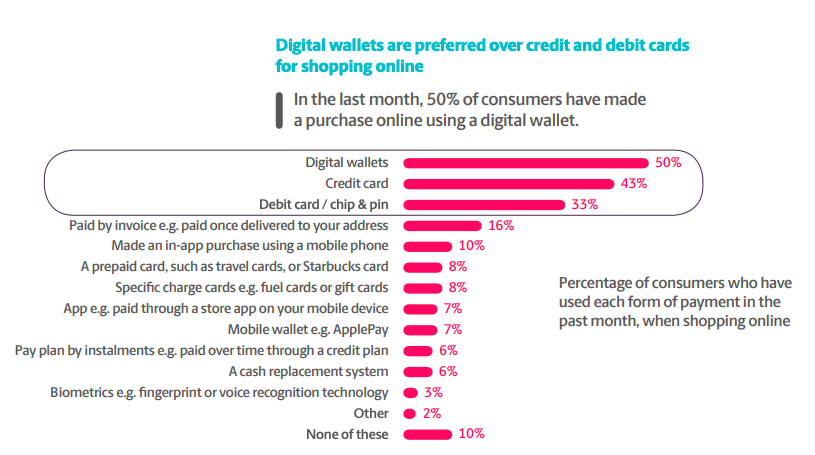 On top of that, there are concerns about the hackability of biometrics as well as a lack of a legal framework governing the use of such data and the rights of its owners. While biometrics have made a lot of progress on smaller scales, the success of the worldwide adoption depends on how the main stakeholders in this debate – citizens, customers, governments, technology developers, privacy advocate organizations, and regulatory bodies negotiate the solution.
In Closing
Biometric technology has already come a long way and proven its ability to bring benefits. From cloud-based visitor identification systems to fingerprint-secured ATMs, the technology is poised to revolutionize the way we pay online, go through border control, identify eCommerce fraud, and do many other complex things. However, in order for that to happen, we need to make decisive steps to address legitimate concerns and resolve other pressing issues.