Meet Tom: Five Places where Biometric Systems Add Convenience and Security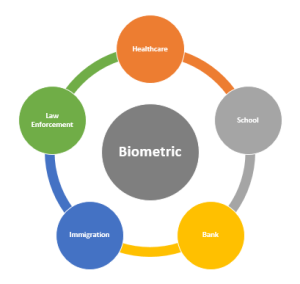 We've all seen the movies where a character provides an iris or fingerprint scan to prove their identity in order to get access into a bank vault or a secured facility. That is actually an example of a biometric system. In general, biometrics is a measure of human physiological characteristics and behavior. A biometric system could scan a person's fingerprint, finger vein, palm vein, iris, facial profile or some other unique physical or behavioral aspect. The purpose of most biometric systems is to authenticate a person's claimed identity.
Biometrics systems are widely considered to be more convenient and secure than other current methods of identity authentication. One of the most attractive characteristics of using biometrics for individual authentication is that you may forget your ID at home when you head out the door or lose it on your way to the office, but you always carry unique your own biometric credentials wherever you go.  Imagine verifying your identity while at the grocery store just by swiping your finger across a fingerprint sensor instead of a credit card. How convenient is that?
As biometric technology evolves, there are many more ways it can be used for authentication in our everyday lives. The rapid adoption of biometric systems for individual authentication are making our day to day life not only more convenient, but also much more secure. Today I am going to share my imaginary friend Tom's experience of how biometric made a difference in his life:
When Tom was born
The summer Tom was born, it was a busy time for his doctors with a record number of deliveries for that year. So the doctors captured his biometric credentials to ensure that Tom's identity would not be accidentally switched prior to his release from the hospital. The hospital assured Tom's parents that they were using a biometric patient identification solution named RightPatient®, which is a leading patient identity management platform. With the help of RightPatient® Tom's parents don't need to worry about the accuracy of his vaccination schedule, medical insurance, or medical records for the rest of their child's life as he can be accurately identified and maintain medical record data accuracy via their patient ID system. Tom's parents were really happy to hear about that.
Just like Tom's parents, you should know that every year more and more healthcare facilities are adopting biometric solutions in order to bolster security and ensure safety and convenience through accurate patient identification and single sign-on into internal systems by hospital staff for data security. These uses of biometrics are not only increasing the level of security but also providing convenience by reducing the time to identify a patient or a newborn baby or to retrieve a patient's medical records. Doctors and hospital staff can also concentrate on their core job responsibilities which are providing quality healthcare service instead of worrying about administrative issues like accurate patient identification and documenting care treatment to the correct medical record, a problem that can seriously endanger patient safety.
Here are some additional examples of how biometric is making a hospital experience more secure and convenient:
As biometrics are unique, they can be linked to one medical record to prevent a duplicate patient identification profile from being created.
Biometrics based patient identification eliminates medical identity theft and fraud at the point of service.
With a simple biometric scan healthcare facilities can identify unconscious patients.
Tracking patients with chronic diseases to help with medication adherence and mapping patterns ensuring the right care is delivered to the right patient.
Tom started going school
When Tom was 5, his parents decided to send him to the best Kindergarten school in the neighborhood. At first they were really worried about the safety and care of their baby, as they were leaving their child alone for the first time. Then they found out that the school has a biometric ID platform integrated with their school management system to identify students and their parents in order to limit access of any unauthorized person on school premises. Starting from recording Tom's attendance to the lunch line payments, everything is managed by a biometric system.
If you are one of those parents, and worried about your child's attendance or security at school, it might be wise for you to look for a school with a biometric identification system. With biometric technology there is no way your child can't be identified incorrectly and eliminates the possibility of one student  providing proxy attendance for another, so the attendance system is nearly fool proof. In addition, the use of biometrics will allow teachers to save extra time to teach their students instead of going through a tedious and time consuming roll calling routine. Lunch line payments are also quicker and hygienic with the use of biometric hardware.
Tom started working for a bank
Fast forward 17 years. After graduation Tom started working for a bank as a Head of Customer Relation. One day his boss asked his department to come up with a plan to effectively manage their customer and employee profiling system which will also add convenience to the bank operation. As the bank was experiencing a growing number of fraudulent activities from both customers and employees, the profiling system was also required to be secure and able to create a concrete audit trail of employee and customer activities. The first idea that came to Tom's mind was implementation of a customized biometric identity management solution for his bank, which allows the bank to accurately identify customers and employees as well as securing the bank's internal network from unauthorized access. After doing some research on the Internet he found a solution called, CertisID™. CertisID™ was exactly what he was looking for and provided the ability to leave an audit trail for all customer and employee activities. Once again he felt that biometric technology made his life easier.
When Tom was travelling
At the age of 35 Tom finally decided to get married. Following his wedding, he decided to travel to Bali Island for his honeymoon. On their way to Bali they had to take 3 connecting flights from Anchorage, Seattle, and Seoul. In all 3 airports and after reaching Denpasar airport in Bali, Tom and his wife had a quick and pleasant immigration experience due to having biometric checks against their biometric enabled passport. But right after reaching Bali, Tom realized his credit cards had expired.  After checking in with his bank regarding the issue, his bank assured him that because he had his fingerprint registered against his credit card, he can use that credential for withdrawing cash from some of the partnered banks in Bali. Again, Tom was relieved, thanks to biometric identification management technology.
Tom's faith in law enforcement established
One day after coming back from office Tom realized he had been burglarized. To his horror he realized that a large amount of his valuable belongings were missing along with some cash. Instantly Tom called 911 for help. After some initial investigation, police found a fingerprint on the entrance door's knob of the house. The following week police found a fingerprint match within their Criminal AFIS Database and caught the burglar red handed finding most of the stolen items and cash. With the help of biometric technology, the faith in law enforcement of a common citizen like Tom was strengthened.
In this article, Tom is an imaginary character in some simulated scenarios but in real life we all deserve this kind of convenience and security. In order to ensure this, there needs to be a full proof identification system like biometrics, which can ensure convenience as well as a high level of security for individual identification.