2015 Biometric Technology Industry Year-End Review
2015 is quickly coming to an end which means it's time look back at some influential events that took place in the field of biometric identification technology during the past year. We have seen quite a few major developments in 2015 both in the government and private sector. In today's post, we provide a quick recap of selected events we feel are notable and how they have affected the adoption of biometrics in major verticals.
Banking and Financial Services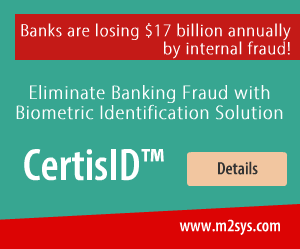 According to a recent report it is predicted that, by the end of 2015 around 450 million global bank customers will be using biometric solutions for banking, and the technology is predicted to be the principal banking authentication method by the year 2020. That's big news. Why? Banks and other financial service entities increasingly recognize the importance of biometric technology in securing customer identities to prevent security breaches. In fact, the financial services industry is also thinking of alternative ways to use this technology to combat money laundering, Internet transaction fraud, and identity theft related crimes. New adopters of biometric technology in banking and financial services include:   Mars National Bank of Pennsylvania, Deutsche Bank, The National Payments Corporation of India (NPCI), Mountain America Credit Union, Wells Fargo& Co. and many others.
Border Control
Throughout 2015 we have seen both positive and negative arguments about the use of biometric solution for border control. In order to strengthen national security many governments around the world have already adopted biometric based passports and visa systems and according to a report by Visiongain, the use of biometric security for border control has generated revenues of $16.4bn in 2015. One major story related to biometric border control is the use of biometrics to identify refugees seeking asylum in foreign countries. The U.S. and EU have already implemented biometric databases to maintain secure borders in response to the influx of irregular migrants and refugees arriving from Syria, Africa, and South Asia.

Healthcare
Tractica forecasts that the nascent global healthcare biometrics market revenue will hit $3.5 billion in revenues by 2024, foreshadowing the tremendous potential of this technology and making it one of the most promising opportunities for the biometric industry. Among the many different applications of biometrics in healthcare, by far the fastest growing use is to accurately identify patients to eliminate the possibility of duplicate medical records and reducing medical identity theft. Two recent deployments of biometrics for patent identification in the U.S. are Bethesda Health, Inc. and Terrebonne General Medical Center.
Law Enforcement
The increased threat of global terrorism and criminal activities has put biometric technology into the limelight in 2015. This year, a study by Research and Markets predicted the global law enforcement biometrics market to grow at a CAGR of 13.35% between 2014 – 2019. The main driving force behind adoption will be the use of biometrics for identification in areas such as identity checks during routine traffic violations, criminal investigations, jail management, and drug and human trafficking.
Conclusion
The overall market for biometric security is expected to be $13.8 billion by the end 2015, according to a recent ABI Research report which foreshadows the continuous growth and increased acceptability for biometric technology throughout the world. We expect future market growth will continue backed by a rising need for convenient and secure identity management systems