What's the Secret on Choosing a Suitable Biometric Modality?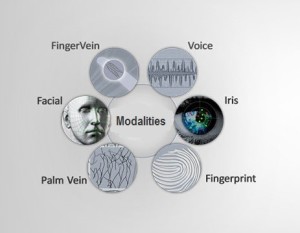 A biometric identification system provides an automated method of recognizing an individual based on their unique physiological characteristics. A biometric characteristic is a general term used to describe a measurable physiological and/or behavioral characteristic. There are many biometric modalities available including fingerprint, finger vein, palm vein, face, iris, voice, signature and more. With growing security concerns there is a growing need for reliable biometric systems to be deployed in various industries such as government, banking or financial services, and enterprise identity management which demands a reliable, highly secure system for authentication. However, implementing a suitable biometric modality that takes into consideration the unique requirements, environment, and circumstances of the application is key to a successful project that can ensure accurate identity management, usability, and reliability.
What do you consider before choosing a biometric modality?
Depending on the application, environment, or circumstance, biometric modalities can be chosen to meet the operational requirements of the deployment. Different industries need different types of biometric modalities based on different scenarios depending on the application context in which a biometric system is designed. The successful implementation of the biometric identification system is analyzed with consideration to the type of the modality used, performance of the system, cost, and limitations. However, the performance and cost effectiveness may vary depending on choosing the right biometric modality that takes into consideration deployment requirements and environment. Environments include the working conditions of the people who will use this system on a daily basis, how they will use it, user acceptance, and feasibility.  In many cases the success of a biometric system depends on choosing the right biometric modality. Sometimes deployments may require combining two biometric modalities (referred to as "multi-modal" biometrics) to ensure optimal accuracy. Therefore, choosing the right biometric modality is important to maximize the full benefits from a biometric system.  There are some important factors which need to be considered before choosing a biometric modality such as:
Accuracy
Security
Availability
Ease of use
Anti-spoofing capabilities
User acceptance
Usability
Cost effectiveness
Hygienic Issue
Which biometric modality will be the best for you?
Biometric systems use a number of individual physical or behavioral characteristics for identification. Each character used depends on the application environment and has its own strengths and weakness. Biometric modalities are defined as:
Fingerprint: Fingerprint identification is the most popular biometric identification modality, widely used in various industries such as law enforcement, forensic departments, government projects, healthcare, banking, and workforce management. Fingerprints have a pattern of ridges and valleys on the surface of the finger tips. Fingerprint biometric identification is now mostly used for end user identification in law enforcement agencies, government projects such as national ID, voter registration, immigration control,  in the banking and financial industries, and for enterprises or businesses to manage large workforce management identities. For example, Nigeria registered 20 million voters with fingerprint biometrics in 2007, and the Iraqi border control department deployed fingerprint biometrics to boost security and increase efficiency.
Finger vein and palm vein: Also referred to as "vascular biometrics" biometric identification based on vein patterns and uses pattern-recognition techniques based on images of the human finger and palm vein beneath the skin's surface. Finger vein and palm vein recognition are very similar, one method recognizes the finger veins and the other recognizes the palm veins. The properties of uniqueness, non-variability, and stability, plus being very immune to spoofing makes this biometric modality more secure than fingerprints and provides a higher level of accuracy. Although vein patterns of your palm are unique, they will vary over a period of time early in life which means anyone enrolled in a palm vein system at young age has to be re-enrolled after reaching adult age.
Due to vascular biometrics being a more secure way of identification than fingerprints, the banking and financial industries and immigration/border control departments are beginning to more frequently implement this technology.  For example, Infinite Solution integrated biometric finger vein recognition system with their core banking system along with a fingerprint recognition system to ensure 100% accuracy and prevent spoofing attacks. Industries with a large workforce such as factories or coal mines where laborers are working with heavy machinery and may possess cuts and scrapes on their fingerprints that damage the integrity of the skin may not be a suitable environment for fingerprint recognition, so finger vein and palm vein recognition provide a more accurate way of securing individual identification in these environments.
Iris recognition: Iris recognition is one of the most reliable and fastest methods of biometric identification that captures photos of your eyes and maps your unique iris pattern to verify your identity. For protecting access to high security applications and environments, iris biometrics is an excellent modality to deploy due to optimal accuracy rates, increasing user acceptance, and a non-contact, hygienic way of identification.  Iris biometrics are now a preferential biometric modality for patient identification in the healthcare industry, such as the use of the technology at Novant Health for patient identification. In addition, access control systems in highly secured areas such as military bases, data centers, bank vaults, border security, and government projects like passport checks and national ID are also considering iris biometrics for large scale deployments – the best example being the UID biometric project in India.
Facial recognition: The face as a biometric characteristic has increasing universal acceptability and is steadily growing as the most common biometric credential used for identifying a person. Face biometric identification methods use facial features such as eyes, eyebrows, shape of the face, shape of mouth, and the model of the face to verify individual identity. Facial recognition is non-intrusive and has a high recognition accuracy. This method is used in applications such as criminal detection, forensic evidence, border control and immigration, enterprise identity management for large workforce management, government projects such as passport, national ID, and voter registration. For example, the country of Yemen deployed TrueVoter™, a biometric voter registration system with facial recognition technology.
Others: There are many other biometric modalities available for specific industries such as DNA recognition for law enforcement and forensic departments, voice recognition systems in banking to verify remote customers over the phone, and signature verification for financial services. Also there are a lot of biometric modalities on the horizon that promise to have mass appeal such as heartbeat recognition, ear recognition, gesture recognition, lip recognition, and more.
With the rapid growth of network applications in various fields such as communications, networking, banking, and the rising need to establish higher security in areas like criminal detection and forensics, and military security, we see tremendous growth in the field of biometric identification systems to fulfill the demands of establishing reliable, cost effective, and user friendly systems. While many of us are already convinced of biometrics as a superior identification method, the difficulty lies in understanding which biometric modality is right for our particular environment. Ultimately any implementation of a biometric modality needs to best suited with deployment environments that can ensure optimal identification accuracy and what will be the best fit for your processes and the people who will engage with the technology on a daily basis. It also should be financially viable and have strong potential to achieve a high return on investment (ROI).
If you need any assistance to determine which biometric modality would be best suited for your projects, please feel free to consult with us!