Know Your Customer (KYC) with Biometrics
"Know Your Customer" (KYC) refers to detailed and authenticated information required by financial institutions and other regulated companies before conducting business with a customer. According to Wikipedia, Know Your Customer (KYC) is the process of a business verifying the identity of its clients. KYC policies mandated by regulators globally are becoming increasingly important to prevent identity theft fraud, money laundering, and terrorist financing.
As more banks and financial institutions begin to augment their customer identification security policies, evaluation of using biometrics for KYC management is rapidly increasing. The use of biometric identification management technology for accurate customer identity verification has proven to deliver efficiency and convenience for organizations and also helps comply with government regulations to prevent identity theft and money laundering.
The growing need of efficient KYC management in the banking industry
In every country banks are required to follow Know Your Customer (KYC) policies regulated by local governments. The main objectives of KYC are to prevent criminals from using banking channels for money laundering and fraudulent activities. In the past banks did not place as much emphasis on realizing the advantages of accurately identifying customers, but now, inaccurately identifying customers has become a regulatory headache to avoid multi-billion dollar fines. In 2013, The Reserve Bank of India (RBI) penalized 22 banks by imposing fines for violating Know-Your-Customer (KYC) norms and anti-money laundering guidelines, according to The Hindu newspaper. Money laundering occurred due to weak KYC management and lead to numerous regulatory fines. At the end of 2012, HSBC had to pay a record $1.9 billion to US authorities for allowing it to be used to launder drug money out of Mexico, first reported via Reuters . Due to inefficient KYC management, bank customers are often victims of identity theft – according to the Federal Trade Commission, nearly 9 million Americans are victimized each year, costing consumers $5 billion, and banks and corporations $56 billion every year.

In order to prevent such activities, effective KYC management has become necessary to know the true identity and detailed information of any customer. Financial and banking institutions are looking to KYC controls to not only meet regulatory requirements but to also cut down fraud losses and improve overall customer relationships across their products and channels.
Why use biometrics for "Know Your Customer (KYC)" in banking?
Biometrics are automated methods of recognizing customers through their biological characteristics and traits such as fingerprints, finger vein patterns, and iris/voice recognition which are unique for every individual and extremely difficult to forge. Adopting biometrics for KYC management in banking and financial services will help to verify customers quickly and accurately. KYC processes used to require  paper based documents like national identity cards, passports, and driving licenses which are vulnerable to fraud and easy to forge. Implementing a biometric verification process along with paper based documentation will ensure true identities and accelerate the verification process by reducing unnecessary and repetitive work which are directly responsible for operational delays.
There many scenarios for adopting biometrics in banking like identifying fraud, preventing account takeovers, establishing concrete audit trails and preventing customers from falsifying identities to open multiple accounts. Implementing biometrics in the banking industry for effective KYC management can play a vital role in the identity verification process and has a positive impact on banking industry.
Benefits of using biometrics for KYC management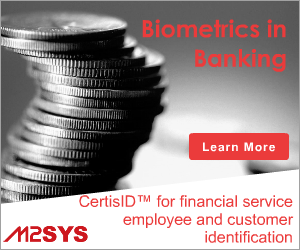 The biometric verification process is simple and convenient for end users. A simple biometric recognition process can provide a fast and automated manner of complying with KYC requirements without disrupting staff to review ID documents. Integrating biometric technology in banking would eliminate cumbersome point of sale compliance processes, record keeping, and personnel training who are otherwise inexperienced in ID document screening. At the same time it will provide an easier and more efficient user experience which will boost bank reputation, fostering greater competition and innovation within the market.
Accurate Identification: The main purpose of a KYC management policy is to ensure accurate customer identities to prevent illicit and fraudulent banking transactions. Due to the fact that biometrics are unique and provide optimal identification accuracy than any other method, biometrics for KYC management will eliminate the headache of accurate identity management and prevent multiple bank accounts for a single person. No one can create several accounts using fake documents.
Quick Verification: Know Your Customer (KYC) requires cumbersome, time consuming paper based documentation so verifying a person's identity with biometrics will accelerate the verification process. Using biometrics for KYC will reduce the hassles of repetitive verification and will create a convenient way of identity verification.
Optimum Security: Biometrics for KYC management will help banks and the financial industry to ensure higher levels of security, protect customer identities, and prevent identity theft. Currently, biometric technology is more sophisticated and can prevent spoofing attacks that can help the banking industry to ensure optimum security.
Convenience, ease of use: The biometric verification process is automated and can quickly and easily verify customer identities within seconds. Biometrics for KYC management will reduce the time of verification besides providing a convenient way of proving one's identity.

Conclusion
Implementing biometrics for KYC management will be beneficial for customers and banks alike because of increases in convenience and security. Providing accurate identity management through biometrics will help the banking and financial industry to maintain accurate customer identities and maintain an efficient Know Your Customer (KYC) management process to prevent money laundering, identity theft, banking fraud, and as well as to comply with government regulations.