Help Us Choose Our Next Corporate Volunteering Initiative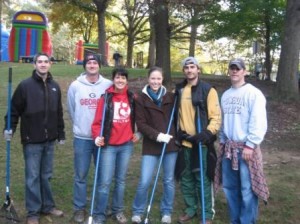 Although our blog is primarily focused on talking about biometrics and its practical applications in business, periodically we will take a break and focus on other topics that are important to M2SYS Technology.
As we have mentioned in previous blog posts the staff at M2SYS emphasizes the importance of volunteering as a way for us to help strengthen our community and build teamwork within our company. We understand that a quality company is only as good as the integrity of the people who work there and a community becomes stronger through volunteering for efforts that help make a difference.
Our staff is constantly searching for philanthropic initiatives with non-profit organizations within our community and after careful review of some upcoming opportunities, we decided to let you, our readers, decide what our next volunteering activity should be. So we set up a dedicated Web site and posted volunteering options with descriptions of the activity and a chance to vote on our next project.  We work closely with HandsOnAtlanta, a non-profit organization that helps individuals, families and corporate and community groups find flexible volunteering opportunities at more than 400 service organizations and schools.
Won't you please take a moment to cast your vote and help us to identify our next corporate volunteering activity?  Thank you!
What are some volunteering activities that your company has been involved with and how do you feel that has made a difference in your community?