Infographic: How to Configure CloudABIS Biometric API
If you are thinking of integrating a biometric identification system with your web or mobile application, this infographic will help you to do it within a few hours. For the convenience of your project, you can subscribe to any cloud-based biometric identification system like CloudABIS which is highly scalable, affordable that provides straightforward SaaS (Software-as-a-Service) pricing model. Have a look at the seamless process to configure CloudABIS biometric API with your web or mobile application: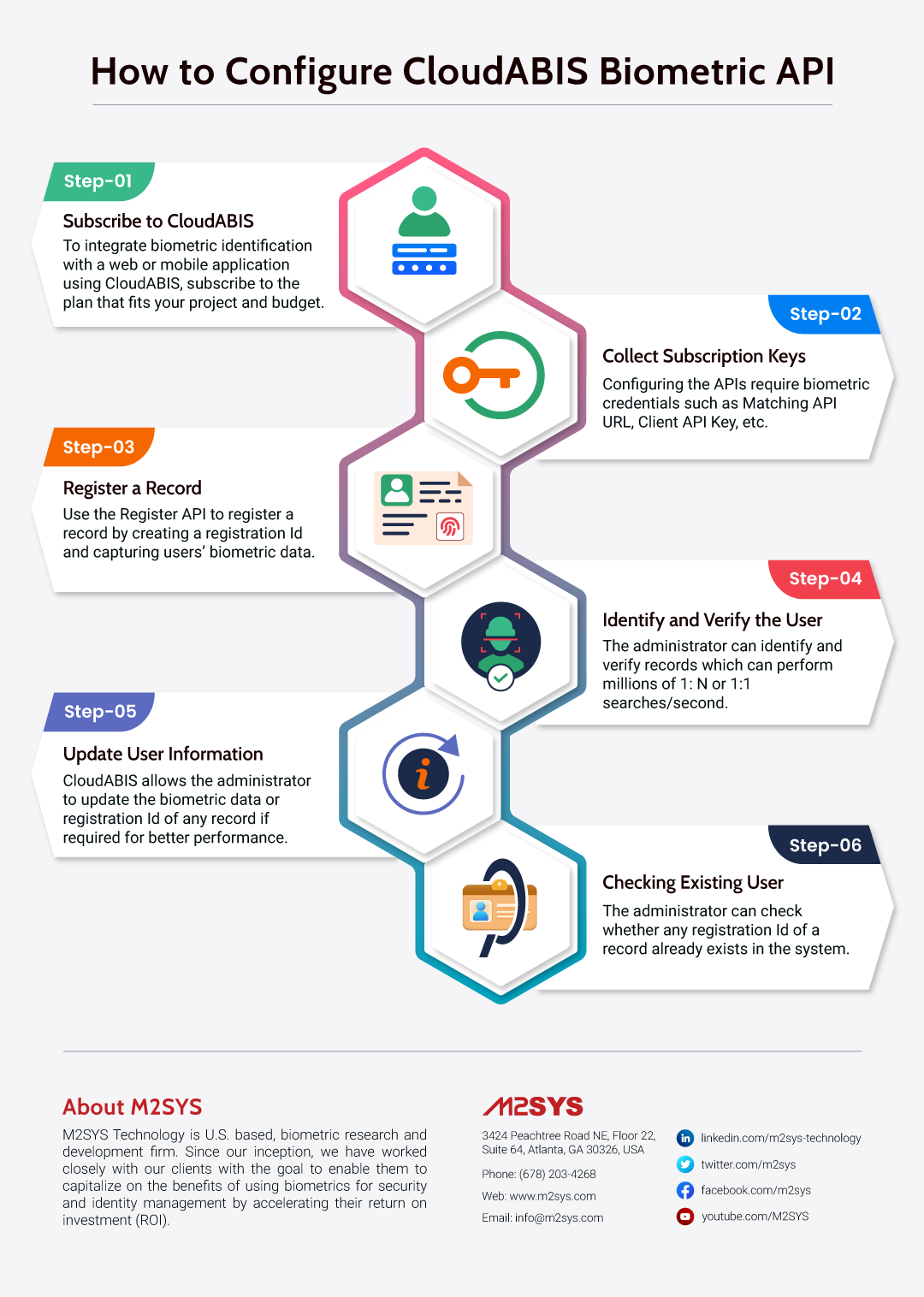 Step-01
First of all, you need to subscribe to CloudABIS biometric API. SaaS pricing model provides flexibility to choose the best plan according to your project requirement. After the successful subscription, you will be given a set of credentials for biometric API.
Step-02
In this step, you need to configure the API with your web or mobile application. Enter the API URL, and then input your App Key, and Secret Key to authenticate your Customer Key to activate the API in your application. To register, identify, and verify the users you can also configure the Customer Key, Engine Name, and Biometric XML in this stage.
Step-03
The technical configuration process is done already. Now you need to register the users by creating a user ID and capturing their biometric data.
Step-04
You are all set now to identify and verify the user using the faster biometric matching engine which is able to perform millions of 1: N or 1:1 search within a second.
Step-05
Every system needs to update its data for better and flawless performance. CloudABIS also allows the administrator to update the biometric data or user ID of any user if required.
Step-06
The operator can check easily if any user is already registered in the system or not. It smoothens the matching system and eliminates the chances of duplicate registration in the system.