Visit Us in Booth #309 at 2017 Connect:ID Conference

Join us in Washington, D.C. for the annual connect:ID conference from May 1 – 3 at the Walter E. Washington Convention Center. Exhibiting as CloudABIS, the M2SYS team will be on hand to offer a demonstration of our cloud-based biometric matching system designed to remove the friction from developing and deploying a reliable, scalable biometric identity management solution.
Exhibit attendees can stop by Booth #309 at connect:ID and learn more about our cloud based framework, matching system, and biometric device integration which are designed to allow end users the opportunity to quickly develop and deploy a biometric identity management solution to fit their own, unique needs. On display at the conference will be:
CloudApper™ – Revolutionary, dynamic cloud application framework
CloudABIS™ – A scalable, cloud-based, biometric-as-a-service (BaaS) matching system
CloudScnr™ – Windows and Web application biometric device integration with web service
cloud biometric as a service
Our next-generation cloud software solutions allow you to buy ANY biometric device, build a business layer app with CloudApper, connect to a fast, accurate BaaS matching system with CloudABIS, and use CloudScnr for fast and easy biometric hardware device integration. Our goal is to eliminate the complexities of licensing and integration and simplify the process of building a custom biometric identification application designed to address whatever unique needs and challenges you may have.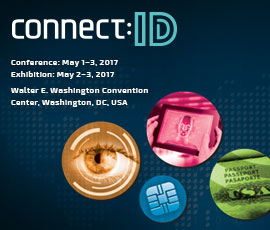 Stop by Booth #309 at next week's connect:ID conference and see our cloud-based biometric identification management solutions, learn about our featured partners and customers, or just pop in to say hello and drop a business card off for a chance to win a free Amazon Echo and at the end of the show (winner will be announced post conference here on the blog).
We hope to see you next week at connect:ID! What are you looking forward to seeing the most at connect:ID? Drop a comment below and let us know!