The Top 5 Ways KRONOS Customers Can Kick Butt With RightPunch From M2SYS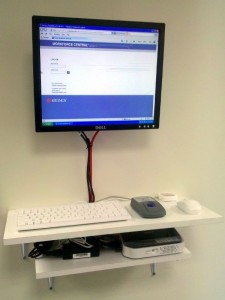 What Is RightPunch?
This just in.  BIG news being reported from the PC-based time and attendance workforce management market. M2SYS Technology has developed a customized biometric identification platform to interface with Workforce Timekeeper from KRONOS and customers are happier than Las Vegas bookies during March Madness.  The product is called RightPunch, and it is paying ginormous dividends for KRONOS customers who are choosing PC-based biometric time clocks as part of their workforce management software strategy.
RightPunch is a flexible, PC-based biometric time clock that has all of the features of a wall mounted biometric time clock at a fraction of the cost.  Without requiring any developments or upgrades, RightPunch instantly interfaces with Workforce Timekeeper offering offline punch captures, schedule verification and automated biometric template distribution to support "floating" employees.  Plus, biometric identification is powered by Hybrid Biometrics, which supports fingerprint, finger vein, palm vein, and iris recognition to ensure 100% employee read rates.
CloudApper Solution Community for UKG
We empower users to customize solutions
When features are needed to enhance UKG solutions, CloudApper is here to help. It's a non-technical toolkit for customizing UKG – easily build anything you want, share it with the community, and help everyone thrive.
Learn More
Top customizations shared by the UKG solution community

Capture time
with QR codes

Capture time
with biometrics

Track
employee tasks

Generate
custom reports

Schedule
employee tasks

Ensure
HR compliance

Send personalized
alerts

Capture time
with geofencing

Build custom
dashboards

Capture
time with NFC

Capture Job transfer
with barcode

Manage HIPAA
compliance
Top 5 Benefits Of Using RightPunch
#1 – Increase in employee productivity by eliminating "buddy punching."
#2 – Reductions in payroll inflation and payroll error rates.
#3 – Increase in security, efficiency and environmental conscientiousness by eliminating ID cards or PINs.
#4 – Reliability – 100% of employees are consistently recognized and authenticated.
#5 – Ensure compliance with labor tracking laws.
Read more about how biometric identification technology from M2SYS is paying huge dividends for a current KRONOS customer using Workforce Timekeeper.
Is saving money, time and resources important to your business?  If you are a KRONOS Workforce Timekeeper customer, get in on the action and ask about RightPunch, the PC-based biometric time clock interface from M2SYS.