Hugh Chatham Memorial Hospital Adopts RightPatient™ Biometric Patient Identification System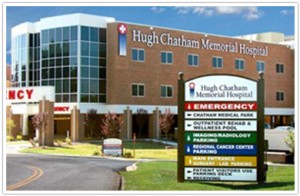 We are happy to announce that Hugh Chatham Memorial Hospital in Elkin, NC has adopted RightPatient™ , our biometric patient identification system for use at their facility. Having initially invested in a biometric patient identification system that only supported palm vein biometrics, Hugh Chatham decided to switch to RightPatient™, choosing iris biometrics as their preferred modality because of it's ability to register and identify patients without any contact with a hardware device, making it a much more hygienic solution that supported hospital infection control initiatives.
Hugh Chatham was also pleased that RightPatient™ is built on a one-to-many search capability which scans the entire master patient index at the time of enrollment into the biometric patient identification system and each subsequent visit by the patient, which is the only true way to prevent duplicate medical records and overlays. In addition, the staff at Hugh Chatham was pleased that RightPatient™ also provided a photo of the patient that was permanently linked to their electronic medical record so medical staff could immediately verify a patient's identity at each touch point along their care path.
Lee Powe, Director of Information Systems at Hugh Chatham specifically pointed out that the RightPatient™ biometric patient identification implementation process was extremely fast and easy, requiring little to no dedicated IT staff full time equivalents. Plus, he said that the staff training was fast and efficient, with the system up and patient admissions coordinators registering patients on the first day the solution went live.
For more information on the RightPatient™ biometric patient identification system deployment, please read our news release. We welcome Hugh Chatham into the RightPatient™ family!