9 FAQs to Ask Before Choosing a CMMS For Effective Maintenance Management
If you're reading this article, you're either looking to switch your existing CMMS solution or want to digitize maintenance management at your organization by implementing a CMMS app for the first time. Whichever is the case, you need to tread carefully, as the CMMS app you choose can make or break your maintenance management efforts. In fact, there are organizations out there who dive right into choosing a CMMS solution without asking the proper questions first. While you might be familiar with a few common CMMS FAQs already, here are a few more questions that you need answers to before choosing a CMMS solution for effective maintenance management at your facility.
9 CMMS FAQs for Effective Maintenance Management
Does the CMMS support work requests?
This is a frequently asked question regarding CMMS solutions. Maintenance teams have a lot of tasks on their plate, and effective maintenance management requires that everyone is involved, especially machine operators. For instance, whenever a piece of machinery is malfunctioning, the operator using it needs to report for emergency maintenance – this helps reduce unplanned downtime, draws the attention of the maintenance team immediately, and minimizes response times. All of this is done via the CMMS solution – as long as it supports work requests.
CloudApper CMMS has a work request management module that stores all the work requests submitted, pending requests, and those converted to work orders. Machine operators can tag the asset in the app, describe the problem, and even upload photos or videos to provide a clearer understanding. CloudApper CMMS also supports work requests via emails. After integrating with the email service provider, whenever a machine operator sends an email to the assigned email address, CloudApper CMMS can create a work request in the app itself, making it more convenient for everyone involved.
How safe is our maintenance management data with the CMMS?
One of the biggest concerns and frequently asked questions regarding CMMS solutions is whether the information stored is secure or not – quite a valid concern.
With CloudApper CMMS, all of your maintenance management information (and anything related) is safely and securely stored using an industry-leading platform that's reputed for its security and stability. Moreover, CloudApper CMMS ensures secure access – built-in administrative controls ensure that only authorized users can access the application. Moreover, organizations can limit specific users to certain application modules, making it ideal for limiting sensitive information to authorized personnel only.
Does the CMMS require additional software?
There are many CMMS solutions, especially those available on Windows machines, which might need additional software. These are typically software packages that require additional installs to run properly. That, fortunately, is not the case with CloudApper CMMS.
CloudApper's maintenance management solution is heavily focused on mobiles and tablets – users simply need to install CloudApper from the respective app stores. For computers, users can access the app with any computer via web browsers, with no additional software required! Authorized users just need to use their credentials to log in from any iOS/Android device or computer and then can continue with their tasks for effective maintenance management.
For effective maintenance management, is training required for your CMMS solution?
One frequently asked question about CMMS solutions is whether the app requires training to make the best use of it for effective maintenance management. That's because some maintenance management solutions have a steep learning curve, and most users are shifting from an existing CMMS solution to a new one – they need to know whether it's self-explanatory or requires some form of training.
That's not the case with CloudApper CMMS, though – it's a powerful, robust, yet easy-to-use CMMS software solution. CloudApper CMMS is self-explanatory and provides new users with a welcome screen that highlights the contents of the solution, making it easier for first-timers and experienced individuals. All the important modules are available, and with only a few clicks, users can jump from one module to another.
However, for organizations or maintenance managers implementing a maintenance management system for the first time, we offer insightful demo videos that can help them with the app. If additional help is required, our support team is available to answer any questions.
Do we need assistance in updating the CMMS?
Another common question regarding maintenance management solutions is whether updating the app requires assistance from the vendor. This usually occurs with on-premise solutions installed locally on the organization's computers and servers. Organizations typically need the vendor's support when updating to the latest version with security patches and new features.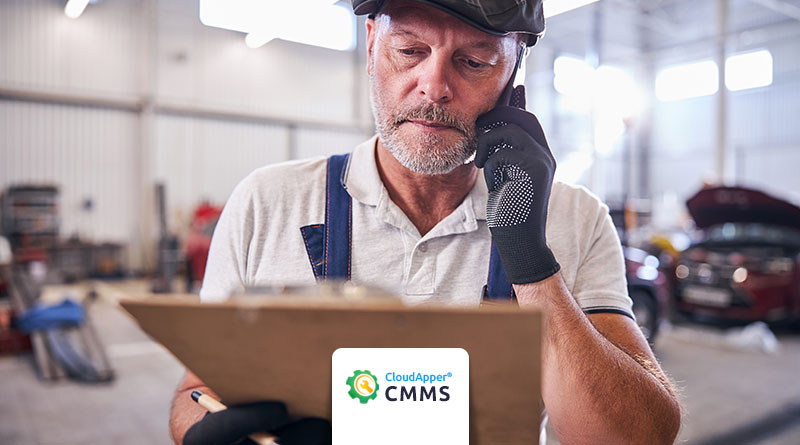 CloudApper CMMS, on the other hand, is a solution that only requires a web browser or smartphone. All the updates, new features, and security updates are provided automatically on computers – the organization doesn't need any assistance from our end in such cases. For the mobile versions, users just need to update the CloudApper platform on their smartphones and tablets – it's as easy as that. Since it's a cloud-based CMMS solution, updates are faster, seamless, and happen behind the scenes.
Where is the information stored if we choose your CMMS solution?
Another common question, similar to "Is the information secure?", is the heading of this section. As previously mentioned, all the information is stored safely and securely in the cloud using an industry-leading platform. Moreover, all the information is stored and organized in a central location – authorized personnel can access the CMMS app by logging in with their credentials and working towards effective maintenance management.
Does your CMMS solution support third-party integration?
Organizations use several solutions to manage their daily operations, and they need to work in tandem to ensure maximum efficiency, data transfer, and so on. One common concern among those searching for a CMMS app is integrating the solution with third-party systems to capitalize on existing information.
With CloudApper CMMS, integration with third-party enterprise and legacy systems is possible. As a result, retrieving information and utilizing it is seamless and easy – improving decision making, ensuring coordination, and reducing response times. For instance, we've already explained how users can integrate our maintenance management system with email providers for work requests in one of the points above. With CloudApper CMMS, the possibilities are endless for improving your maintenance management efforts!
Can we upload maintenance management-related photos or videos?
Many maintenance management professionals have a common question – can the CMMS solution support uploading photos and videos that can help with maintenance? Since virtually everyone has a smartphone or tablet, these can make equipment maintenance easier and more informative. For instance, a picture or video can easily highlight the issue with the equipment, making the problem clearer for the maintenance management team.
Since CloudApper CMMS focuses on smartphones and tablets, users can utilize their smartphones or tablets to take photos (and, in specific cases, videos, and files) and attach them to the respective equipment, work order, work request, spare part, and even employees. All of this provides a much clearer picture (no pun intended) to the maintenance team, the management, and the organization for better decision-making.
Do I need to install the CMMS solution on my computer?
A common question, as there are several on-premise and cloud CMMS solutions available. However, as previously explained, with CloudApper CMMS, organizations only need a web browser to access the solution – no installation required! Users simply open the CMMS, sign in with the credentials, and start with the maintenance activities – it's that simple!
Sign up for a FREE TRIAL of CloudApper CMMS now to see how it simplifies maintenance management at your facilities!