#biometricchat Transcript for 06/14 Tweet Chat on Voice Biometrics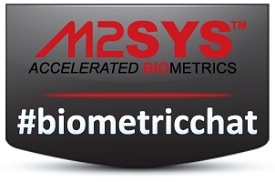 Fantastic chat this week with Nik Stanbridge from Voice Vault about voice biometrics. We had a great discussion with Nik and the other biometric professionals that joined the chat about these categories in voice biometrics:
— Technical challenges
— Viable non-telephone based voice applications
— Future industry growth opportunities for voice biometrics
— Why voice biometrics is more secure than fingerprints/DNA
— How voice technology works against fraud
Here is a link to the chat transcript: sfy.co/a0Bz 
We would like to take a moment and thank Nik Stanbridge and Melinda Ziemer from from VoiceVault for their time in helping us to organize the chat and especially to Nik for sharing his knowledge and expertise on the topic. Also, special thanks to all of those who joined the chat and chipped in their own opinions, knowledge, and additional questions.
Next month's chat topic will be released soon, please stay tuned to our blog for details. Please spread the word about #biometricchat – we are trying to promote a more widespread understanding of the technology and provide an educational opportunity for those seeking to learn more about biometrics for identification and verification.
Have an idea on a topic for the chat? Please email jtrader@m2sys.com with the details. Thank you!