Best Visitor Management System For Small Business
How many small businesses have a proper visitor management system on-premise? Probably the answer would be, not a lot of them. The question is do these business organizations not have any visitors, or do they not are in need of security. To put these questions at rest, they are, but what is stopping them from adopting a visitor management system. The answer is high added cost.
There is no term called visitor management system for small businesses, in fact, it was true in every aspect of technology. No software or facilities were built or developed keeping in mind of the purchasing powers of these small businesses. A visitor management system for small business should not increase cost for it, rather the system should save money for one-time investment.
Free Case Study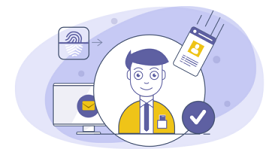 Implementation of Iris Biometrics for Patient Identification at Novant Health
A visitor management system often adds up a cost for the deploying organization. Many of the visitor management systems ensure security through printed badges or id cards. This visitor management systems mainly focus on enhancing security but completely lacks the focus on that a greater achievement can be done through the implementation of the visitor management system for small business. This added printer add up cost, the id card sheet or special adhesive badge paper add up cost, even the system itself add up maintenance cost for the company. Also not to mention that any visitor management system is far too highly priced.
A visitor management system for small business should be made in such way that it assists in daily operation reducing any more cost and totally eliminate security risk. Such visitor management system for small businesses does not exist until M2SYS came up with VisitorTrack™ for all sorts of organizations. Regardless of size and organization type, VisitorTrack™ can easily adapt itself to the environment and serves its deployment purpose and that is tracking visitors.
Let us evaluate why VisitorTrack™ is the best visitor management system for small business.
Affordability
Creating the pricing module, M2SYS Technology closely kept in mind the small business owners or any small organizations as well as large corporations. This allowed VisitorTrack™ to have a very healthy price that is affordable for all the parties no matter what size the organization or deployment place is. Not having too much to spend but having the best security is obviously a great advantage.
Reduction in Maintenance Cost
VisitorTrack™ totally eliminated paper usage with digital badges that will be sent directly to the visitor's smartphone. This way actually it is paperless and environment-friendly. Moreover, using additional printers, papers just increase your cost of refill and maintenance. Once empty, you will have to refill the ink cartridges for the printers and those special papers too.
Also, these devices have to be maintained thoroughly. To take it to the next level, VisitorTrack™ introduced a digital badge that can be scanned by the security individuals or authority to be sure that this visit is authorized. This way VisitorTrack™ saves a lot of extra money for its users.
Biometric Security
Visitor management systems in the market have many exciting features for any third party visiting any facilities. Despite having all the positive barriers for security purposes, visitor management systems have a lacking of a little security detail and that is those do not have any biometric modality support for its visitor management system.
Without proper biometric authentication, there is almost no other way to be pretty accurate about the identity of an individual. And that is why, VisitorTrack™ supports a variety of advanced level biometric authentication such as fingerprint, finger-vein, iris and or facial recognition. Using VisitorTrack™ with these biometric measures to authenticate the identity eliminates nearly a hundred percent chance of any identity theft.
Repetitive Sign in
When any other visitor management system is on guard, visitors have to sign in filling up sign up form using credentials each time they visit the organization. This sort of repetition can be avoided to save time and irritation using VisitorTrack™.
M2SYS VisitorTrack™ enlists a visitor the first time they check in in a premise and for any additional visits, the personnel just have to scan his biometric information such as fingerprint, finger-vein or iris to identify know who he or she is! Use of advanced facial recognition has allowed visitors to just take a selfie and identify themselves for the visit when VisitorTrack™ is on the premise.
Real Time Picture Documentation
No other visitor management has the facility of additional documents or picture uploading facility for future needs that VisitorTrack™ provides, not even the most premium ones. Using VisitorTrack™, you can take additional pictures of anything that is directly or indirectly related to the visitor and store it in the visitor profile for future references. Documents, parcels, ID cards, business cards or the person himself or herself; you will be able to take any picture and store it in the profile of the visitor, just in case if you need it in future.
Cloud Hosting Benefit
Many visitor management system is just a stationary software that works on the existing network and is not accessible from anywhere anytime, unlike VisitorTrack™. One has to host the total offline visitor management software and database on local network creating an additional server and hosting burden.  Cloud hosting makes VisitorTrack™ more efficient. One can login to VisitorTrack™ from anywhere and also the total database hosting is in the cloud that needs no user hardware support.
Besides all these, VisitorTrack™ also has exciting analytics to guide your decisions regarding visitor management and drive your operations faster like any other efficient visitor management systems. M2SYS Technology mainly tried to empower every organization from small to gigantic and so this unique cloud-based visitor management system VisitorTrack™ came to light. To find out more about VisitorTrack™ click here.