April #biometricchat to Discuss #Biometrics and Mobile Market (04/12 at 11 a.m. EST)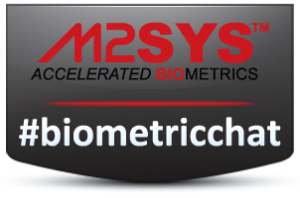 When: April 12, 2012
11:00 am EST, 8:00 am PST, 16:00 pm BST, 17:00 pm (CEST), 23:00 pm (SGT), 0:00 (JST)
Where: tweetchat.com (hashtag #biometricchat)
What: Tweet chat on biometrics and mobile devices
Topics: Viable biometric modalities for mobile devices, security advantages of using biometrics on mobile devices, public acceptance of biometrics on mobile devices, interoperability of biometrics with mobile devices, the future of biometrics and the mobile market
April's #biometricchat will explore the topic of biometrics and the mobile market. With some projecting the mobile phone biometrics market will soar to $161 million by 2015, conditions appear to be set for the technology to move from a luxury to a necessary security for smart mobile devices as more manufacturers explore using biometrics as a feature to create a competitive advantage over their rivals. Heavyweights like Google and Apple have already developed biometric identification solutions to work with their operating systems in different modalities like facial and voice recognition. In addition, Research in Motion (RIM) recently unveiled an iris camera built into their Blackberry 7 smartphones, the first of its kind in mobile market and a modality that is widely considered the most accurate of any available.
We are happy to announce that Raúl Jareño with Mobbeel, a biometric mobile solution provider headquartered in Cáceres, Spain, will be our guest on the chat, bringing his expertise and insight to the discussion and insight into the present and future of biometrics and mobile devices. We will be discussing:
1. What are some of the most common biometric modalities for mobile devices and what changes can we expect in the future?
2. What security advantages does biometrics offer to mobile devices over other authentication features?
3. Are there any limitations of biometrics with mobile devices?
4. How reliable is the technology?
5. What can we expect to see in the future?
Just in case you are interested in participating but are new to Tweet chats, please read this post which outlines the instructions and procedures. We hope that you will join us for the discussion, and please spread the word among your colleagues and friends.
Do you have any questions that you would like to ask Raúl? Please send them to: jtrader@m2sys.com or come prepared with your questions, comments and feedback on Thursday, February the twelfth at 11am EST.