Certain Trends Push Implementations in Biometrics Industry to The Next Level
The following is a guest post submitted to M2SYS by Pranjal Mehta, Sr. Digital Marketing Engineer, with Big Market Research.
Weakening any risk of security breach or safeguarding critical data happens to be one of several concerns that needs to be tackled with creative technological methods. Thus, biometric verification is one such solution to authentication problem. Due to tremendous innovation, in this space new entrants are emerging to offer more secure and easy verification process to customers. Research analysts at "Big Market Research" assessing the growth rate, share and size and trends outline that government bodies and different industries are planning on implementing mobile biometric, which will speed up the authentication process. The industry is likely to undergo significant change over the next five to six years owing to certain trends.
Firstly, biometrics are making their way into the retail and consumer industry. This would empower the sector curb issued associated with current password and personal identification number verification. At present, the authentication techniques fail to offer the security that is eventually required. The cases of password being hacked from personal data shared on Facebook, Twitter etc. has increased over the past five to six years.
Secondly, smartphone manufacturers have finally turned their attention to biometrics to verify device access. A recent study by Gartner indicates that about 30 percent mobile phones would be seen equipment with biometric authentication by the end of 2016.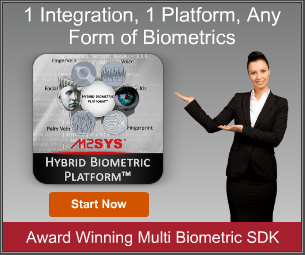 Thirdly, industry –  centric biometric products will observe greater acceptance in 2016. A wide range of solutions would be developed to serve the unique requirements of respective sectors. Besides this, demand for customized solutions as per the state and international industrial standards and legal policies.
Fourthly, the market for multifactor biometric device authentication will expand. Companies are now thinking seriously about these biometrics such as heartbeat, voice, fingerprints and facial among other for authentication as it has great significance in mobile banking.
Fifthly, the hand geometry recognition has finally become the most implement type. This solution debuted in late 1980. These systems have gained acceptance for their public as well as implementation capabilities. Monitoring the recent advancements in the segment "Big Market Research "has added a report titled "Global Hand Geometry Biometrics Devices Industry 2015 Deep Market Research Report". The study weighs up on the major drivers, opportunities and trends in this category. This report covers the key market players along with the business strategies that have kept them successful so far.

To conclude, signature authentication on smartphone have open new avenues for the biometric industry. They are used for various functions including validating online payments, access personal data and e-government applications among others. Other uses including accessing bank account, client authentication that either receives service or delivery as a replacement for passwords on printed document would keep the future of the biometric industry bright.