5 Ways Biometric Technology is Used in Everyday Life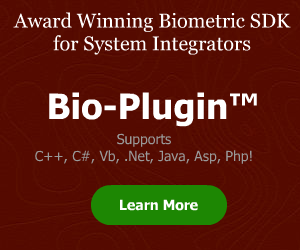 The following guest post was written by Human Recognition Systems  who provides biometric access control solutions to customers in Aviation, Government, Military, and Construction sectors.
Amidst all the hype and media coverage that surrounded the recent launch of Apple's new iPhones, it was easy to overlook some of the new features which the phone has adopted.
Which features? You may ask.
Admittedly, you could be forgiven for thinking that not much has changed with the 5S and 5C models. But one addition that has attracted most attention is the new way in which users gain access to their phone, allowing them to make calls, access contacts and use the apps.
Rather than inputting a four-digit security code, simply placing a finger over the start button is all that the registered user now needs to do.
Biometric technology, or fingerprint recognition in the case of the iPhone, is not new, but its use is becoming more and more widespread – more so than many people think.
It's not just fingerprints. Face, voice and iris recognition are all common place in many walks of life – and due to the added security such systems offer, it's likely we will see it being used more and more over the coming years.
We are likely to see #biometrics used more often for identification in the coming years.
Click To Tweet
Here are just some examples of biometric technology and how it can be used.
1. Airport security
Iris recognition has been used in a number of large airports for several years. You must sign up to a scheme and your eyes and iris are scanned. Your details are then stored on an international database and instead of waiting in long passport queues, passengers simply walk into a booth and look into a camera. The software then scans the iris and matches the details with the information stored on the database.
2. Building Access
Fingerprint access for buildings is not new. Many high security facilities have used biometric technology for years when it comes to ensuring only authorised personal gain access to the most well protected establishments.
3. Cars
It's estimated that over 2 million cars in the UK use biometric technology in one form or another. This can be anything from voice recognition when using Bluetooth or entertainment systems to unlocking the vehicle itself.
4. Blood Banks
When it comes to giving blood; identity is pretty important. In the past donors were issued with blue cards containing all the information required. More and more these days that crucial data is being stored digitally – with donors using finger print or iris recognition to access their vital details. More about healthcare solutions: https://www.m2sys.com/healthcare/
5. Schools
Last year the Association of School and College Leaders (ASCL) estimated that about 30% of secondaries in England were using biometric data. As well as ensuring that only pupils and authorised adults gain entry to school buildings, biometric data is also used for activities such as; recording attendance, checking out library books or even paying for meals. Due to the sensitivity surrounding children and privacy; schools require full, written permission from the parents of pupils in order to use the system.
This post was written by content writer Matthew Crist, on behalf of biometric solutions providers Human Recognition Systems. Who provide "biometric access control solutions" to customers in Aviation, Government, Military and Construction sectors.