10 IOT Revolutions That Will Be Available in Every Smart Home After 10 Years
Ever heard of IOT, Internet of Things? Well, this is the new bling and it is something that is going to help you extend the use of internet from just computer, laptops to daily household stuff.
Internet of Things is the idea or theory where one will be able to expand the use of internet beyond the usual standard devices such as laptops, smartphones and computers etc.
These IoT devices are integrated with high definition technology which enables them to interact or communicate via internet smoothly. Since these devices are operated through internet, it will be easier for the user to control and manage them remotely when needed.
What are IoT devices?
We have to inform you as a matter of fact that the IoT devices available today has easily surpassed the number of humans living on this planet.
With an increase in the demand of 5g, there will be around 20 billion IoT smart devices running in homes by the end of 2021, whereas the number of humans on this planet is 7.62 billion. Doesn't that astonish you?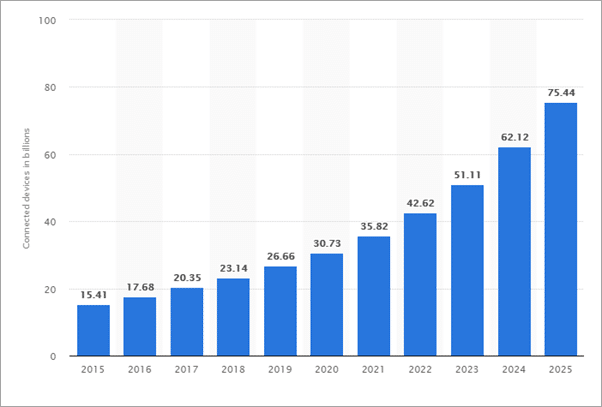 Source 
If we draw out an average of this ratio, then it is to say that just in 3-years, almost each person in the US would have more than 10 IoT devices of their own. If you want to know more about these statistics, we suggest you take a look at this post for more information.
We all know that technology is developing day by day. It is no surprise at all that in just a few years, our homes will be known as smart homes with an influx of IoT smart devices. The doors and windows of our homes are already being integrated with this Automation System. Soon, our homes will have numerous IoT devices installed in them.
Let's take a look at some of the IoT revolutions that will be available in almost every home in 2 years' time,
1.      Google Home Voice Controller
We are sure that you must have heard about Google Home but if you haven't, let us tell you all about it.
Google Home Voice Controller is an IoT smart device that allows the user to enjoy the perks of controlling alarms, media, thermostats, lights, control the volume and much more just by their voice.
It is an amazing device that is now being used by people all over the world.
2.      Amazon Echo Plus Voice Over
This is a powerful and reliable IoT device that has made a name for itself in just a few months of its launch.
This device will allow the user to run songs, set timers and alarms, do phone calls, provide information, ask questions, check the weather, manage to-do list and so much more. It will allow you to manage house instruments and several other things as well.
3.      Amazon Dash Button
Now this is an important and interesting piece of technology. The Amazon Dash button is basically a device that you can connect through the internet and it keeps you informed so you don't run out of household items such as medical and personal care, grocery materials, soft drinks and any pet or kid item.
However, if the user wants to thoroughly enjoy the perks of Amazon Dash Button, then he must be a member of Amazon Prime.
4.      August Doorbell Cam
The August Doorbell Cam is a very useful device for people who do not want to open their gates or doors at someone's arrival every now and then.
With the help of August Doorbell Cam, the user can answer his door from any remote location. The device captures any kind of motion changes in your doorstep and also checks your door constantly.
5.      August Smart Lock
This is a reliable and security IoT device that is being promoted by many manufacturers of windows and doors Calgary.
It allows the user to manage his/her door from any location. It will also enable the user to keep thieves away and keep his family safe.
6.      Kuri Mobile Robot
This is the first ever home robot that is there to capture all your favorite memories and to entertain you with the best of its capacity.
Kuri moves around the house, interacts with the house members and captures memories. This is an amazing new house member whom you can definitely invite in.
7.      Belkin Wemo Smart Light Switch
The Wemo Smart Light Switch, as the name suggest, is an IoT device that will allow the user to control all the home light by wall, voice or or over smartphones.
This smart light switch can be connected to your existing home Wi-Fi network in order to provide wireless access of your entire light system. It doesn't require any hub or subscription.
8.      Football Air Quality Monitor
Wanting to improve the air quality of any house is the dream of almost every house member. Well, that dream will now be achieved with the help of Football Air Quality Monitor.
This air quality monitor will let you know how much pollution there is inside the house in order to improve the quality of it. It provides accurate calculations and is highly efficient.
9.
Nest T3021US Learning Thermostat Easy Temperature Control
With the help of Nest Thermostat, the user will be able to control the home temperature and cooling environment with ease.
This IoT device comes with smart intelligence and is capable of managing the room temperature automatically entirely based on your routine.
10.  Philips Hue Bulbs and Lighting System
This is a very famous smart IoT device that will enable you to control the lighting system of your home and enable just the right ambience you need.
It innovates the smart home and turns it to live with the most connected lights in the world.
So, these are the smart devices that will be available in almost every smart home within 10 years. We hope this article was helpful to you.
Let us know if you have any other smart IoT devices that we should add to this list.