The Hitachi Finger Vein Reader – Bells, Whistles and More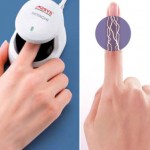 The State of Vascular Biometrics
Vascular biometrics has arrived in full force and end users are uncovering its utility and the many advantages of using it in different vertical markets. Whether it's to alleviate problems with fingerprint recognition that age, ethnicity and climate can cause or to invest in hardware where direct contact is not required to the sensor which detects your biometric identity thereby prolonging the life of the reader – vascular biometrics is surging.
By using near infrared light to capture an image of the vein pattern beneath your skin and using that as the basis for identification, vascular biometrics is a smart alternative to fingerprint and bypasses the need to have quality fingerprints in order to successfully use a biometric identification system for nearly 100% of end users.
Finger Vein Technology – The M2-FingerVein Reader
The M2-FingerVein Reader made by Hitachi offers a non-invasive, contactless scan below the surface of the skin for a perfect read, every time. It is increasingly used in deployments where sweaty, dry or aged fingers may pose a problem and is a viable choice for biometric identification projects of any size, across all markets.
Often times, we receive feedback from end users that they want biometric hardware to make a sound or see a light that confirms individual verification of acceptance or denial so they can quickly determine if there is a problem and correct it to keep the system efficient and flowing. Hitachi did an excellent job when designing the M2-FingerVein reader by adding audio and visual components that are emitted each time a user interacts with the device to determine if a scan is accepted or denied. An LED display on the top of the reader will turn green when the device is ready to use and then flash green if an authentication is successful, orange if it's a poor quality scan or red if the scan failed. The finger vein reader also emanates a "beep" sound when a scan is accepted after an individual places their finger in the device. Plus, when used with the M2SYS Bio-SnapOn software engine, the device will make a sound similar to a doorbell ringing when a scan is successful.
An additional advantage of the M2-FingerVein reader is that an end user never makes contact with the sensor when interacting with the device unlike a fingerprint reader where direct contact must be made to capture a scan. This prolongs the life of the reader and helps users to boost their return on investment by not having to replace the reader as often.
We encourage you to consider finger vein vascular biometric technology for any type of environment and since it is an affordable alternative to fingerprint, switching from one modality to another may not require a large investment, especially if your biometric recognition software is powered by the M2SYS Hybrid Biometric Platform.
Please read this case study about how finger vein solved one customer's fingerprint challenges.
Have you tried finger vein technology? How did it help to overcome issues you were facing with fingerprint biometrics?