M2SYS Honored by Atlanta Business Chronicle for International Biometric Identification Management Deployment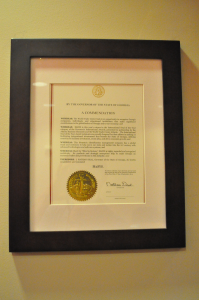 Late last week, the Atlanta Business Chronicle honored M2SYS with an award for 'International Deal of the Year' recognizing our contract to provide the back end matching and de-duplication software for a biometric national ID project in an Eastern European country encompassing more than 80 million citizens.
We are humbled for the recognition, and proud that we were able to secure this contract to help bring the utility of biometric identification management through a domestic national ID card initiative. The innovation that our company has demonstrated by helping to build and deploy this large scale back-end matching and de-duplication solution using palm vein biometrics helps distinguish our efforts as a pioneer in constructing systems that have the capability to de-duplicate and match millions of records in seconds – important in the context of ensuring that deploying a system instills accuracy, and thus confidence in the ability of biometric identification management solutions to work fluidly and efficiently.
Hats off to our entire M2SYS team for pushing the biometric identification management innovation envelope and continuing to lead the industry with developing the fastest and most accurate de-duplication and back end matching capabilities. We are excited to help spread the utility and security of biometrics through our key, large scale deployments all across the globe and thank the staff at the Atlanta Business Chronicle for recognizing our efforts.
Congratulations M2SYS!