Los Angeles Airport Trials Contactless Self-Service Biometric Boarding System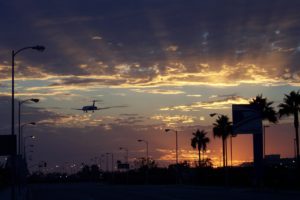 It was announced last month that an advanced biometric self-boarding solution is going to be used at Los Angeles Airport on a trial basis. It will help travelers board in a convenient, contactless, secure way. The project is supported by U.S. Customs and Border Protection under the United States'  Biometric Exit trial program.
This system will allow travelers to board their aircraft within a few seconds. The passenger will  just need to look into a face capturing camera to scan the face thoroughly. The passenger will be free from showing any kind of documents or boarding pass to reach their destination.
It is a virtualized process which sends the biometric boarding pass details to the Airline Departure Control System. It uses the face as a token to recognize the ins and outs of the passenger and connects them to their respective flight.
This technology will let the airport authority know  if the passenger is allowed to depart from U.S. or not. If the system finds no issue with the passenger, then the gateway will be open and passenger is allowed to depart.  
This system has many  benefits including boarding-pass scans, seat reassignment, and additional verification modalities.
Read More: Biometric SmartGates Improve Border Security and Airport Efficiency
"This industry-first deployment of innovative solutions from the US Customs and Border Protection and Vision-Box, shows the amazing potential of using biometrics to speed up the boarding process while maintaining safety and security," said by Justin Erbacci, chief innovation and technology officer at Los Angeles World Airports (LAWA).
He also added that,
"We have been very impressed with the results thus far, and love to see the passengers' excitement at being some of the first in the world to use facial recognition."
This is just another instance of biometric technology making its way into our everyday lives. It is continually evolving and adapting making our lives safer and easier.
Source: aviationpros