Common Misunderstandings between Iris Recognition and Retina Scanning
Retinal Scanning and Iris Recognition: Are they different?
Biometric identification management hardware modalities have different characteristics that often have a strong impact on their performance and acceptability by end users. You probably already know about the differences between fingerprint identification and finger-vein biometrics – fingerprint biometrics relying on an external physiological characteristic and finger vein biometrics use the vascular, internal vein patterns of the fingers for individual identification.
Two additional biometric identification technologies that are often misunderstood and erroneously assumed to be one in the same are iris recognition and retinal scanning. Both of these biometric identification management technologies use the eye as the physiological identification attribute but the processes and technology used are quite different and sometimes one can be confused with the other. Iris recognition and retinal scanning are defined as:
Iris Recognition:
The colored section of the eye is known as the iris. The biometric technology used in iris recognition takes a digital photograph of the iris using safe, non-visible near-infrared technology (the same technology used in TV remote controls), capturing more than 250 data points for identification. The image is then compared to images stored in a database to identify a person.
Retinal Scanning: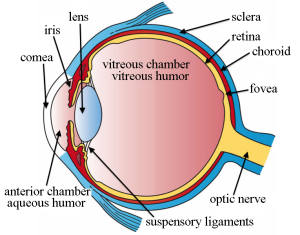 The retina is located in the back of the eye and cannot be seen with the naked eye and there are unique differences in the network structure of blood capillaries within the retina for different people. Retinal scanning technology uses an invasive, visible laser to scan the retina and the unique retinal features of a person are compared within the database to identify a person.
Additional Differentiation
Let's identify a few more differences between iris recognition and retinal scanning:
Retinal scan measurement accuracy can be affected by disease; the texture of the iris remains remarkably stable
Takeaway: Illness and disease could affect the accuracy of retinal scanning
Retinal scanning requires close proximity to an eyepiece such as looking into a microscope; iris recognition relies on a digital photograph and can be performed at a distance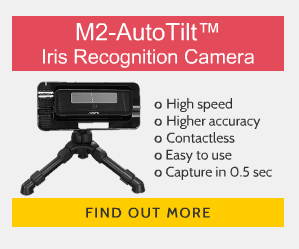 Takeaway: Iris recognition is more flexible and efficient
Takeaway: The expense and impracticality of retinal scanning is not conducive to mainstream use
Takeaway: Retinal scanning is invasive and not user-friendly
Conclusion
Understanding the differences between biometric identification hardware modalities helps to increase user acceptance and clearly understand capabilities and limitations. The ability to distinguish between retinal scanning and iris recognition is important if you are considering an investment in biometrics and expect user acceptance and a high return on investment (ROI).