Managing the Risks of the New Remote Workforce
In the aftermath of the recent COVID-19 outbreak, millions of workers are staying home and continuing to test the remote work infrastructure of businesses around the globe. Although this new way of working provides attractive benefits like flexible work hours and better work-life balance for employees, remote work, even under the best of situations, can present its own set of security challenges.
During the current COVID-19 crisis, working from home is quickly becoming a business necessity and no longer just a temporary fix for productivity loss. During the pre-COVID period, only 5% of information workers primarily work from home, but since March 2020, 47% of respondents to a Forrester survey say their organization has moved at least half of their workforce to remote work.
It is too early to predict whether this trend is confined to the current crisis or whether the pandemic will aid in a future with more acceptability for remote work. But whichever is the case, as teams are getting decentralized, there will be more risks of the new remote workforce both in terms of information technology and human resources.
Key measures to minimize the risks of the new remote workforce:
Eliminate internal threats with web and app usage monitoring. When it comes to eliminating security threats, you need to start inside your organization. And it's not always malicious actors; employees can also unwillingly put systems at risk through sheer ignorance. Simple mistakes such as clicking rigged links in emails, messaging apps, and advertisements invite hackers to surveil companies and organizations with massive consequences. So, monitoring your employee's app and web usage can give you an opportunity to warn or educate them about any safety concerns.
Promoting app-centric security. While working from home, many employees have been forced to use their personal device. To protect company assets that are being accessed from these personal devices, invest in app-based solutions such as app virtualization, app containers, and app security. These can help security professionals to minimize device-centric security risks.
Setup automatic threat detection system. An ever-increasing remote workforce has created new burdens for security professionals. Automated security tools such as threat prevention, detection, response, and data encryption help take some of those burdens off the admins, allowing them to focus their energy on adapting to new security challenges caused by remote work.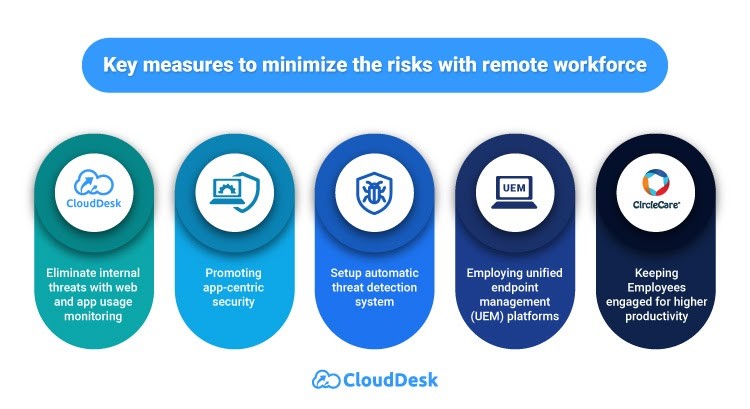 Employing unified endpoint management (UEM) platforms. UEM platforms can simplify the process of releasing new security updates and patching assets across various operating systems. Invaluable for a remote workforce, these tools also allow the security team to manage native security capabilities, gain greater visibility across devices, and enforce encryption standards across OSes.
Keeping employees engaged for higher productivity. Remote employees stay at their desks for hours without going outside. This may not only damage their health but also make them feel alone and isolated. Try the CircleCare employee engagement app to help them solve these issues. It encourages employees and helps them to achieve health goals. With this app, you can keep employees motivated and keep them engaged to work. Try this app to increase the productivity of your remote teams.