Infographic: How Do Employees Steal Time?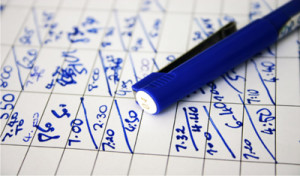 Time theft.  Widely considered the Achilles heel of employee productivity and profit maximization, it siphons billions of dollars a year from businesses all throughout the U.S.  Whether it's checking a Facebook account, playing games like Sudoku during working hours, taking a longer than normal lunch break or fudging time sheets, time theft is a grave problem and difficult to remedy.  One of the most interesting revelations about time theft we discovered is that three out of four employees are guilty and most do it on a regular basis unchecked.  Moreover, our business culture is ingrained with the notion that a few minutes to check our personal e-mails or talking with a friend on our cell phones doesn't do much harm.
Au contraire mon ami.  That extra 15 minutes spent at lunch can equate to an extra day of vacation every month.  Chitchatting with a co-worker about last night's episode of American Idol?  The average employee wastes about 4.5 hours per week on socializing and lollygagging, the equivalent of a six week vacation every year.
Ever wonder exactly how much money your business may be losing to employee time theft?  We did too.  We conducted some research, crunched the numbers and present you with this Infographic highlighting some of the gory details.  Don't give up hope though.  There are plenty of technological advancements available that curb sources of time theft.  Perhaps these statistics and revelations will stir you enough to take action and turn your Chatty Cathies and Surfing Steves into more productive employees.  Or perhaps they won't.  What the heck, it's only money.
CloudApper App Community for UKG
We empower users to customize solutions
When features are needed to enhance UKG solutions, CloudApper is here to help. It's a non-technical toolkit for customizing UKG – easily build anything you want, share it with the community, and help everyone thrive.
Learn More
Top customizations shared by the UKG app community

Capture time
with QR codes

Capture time
with biometrics

Track
employee tasks

Generate
custom reports

Schedule
employee tasks

Ensure
HR compliance

Send personalized
alerts

Capture time
with geofencing

Build custom
dashboards

Capture
time with NFC

Capture Job transfer
with barcode

Manage HIPAA
compliance
Learn how you can take control of your payroll and start saving money by visiting:   https://www.m2sys.com/rightpunch-biometric-time-clock.htm
What other creative examples can you come up with of how employees steal time?  Please share them with us in the comments section below.