Fujitsu and M2SYS to Hold No Cost Webinar on Benefits of Palm Vein Biometrics for Retail Loss Prevention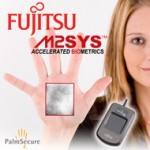 Fujitsu and M2SYS are teaming up again to offer a no cost Webinar on the value of using PalmSecure Palm Vein biometric technology in retail environments to help bolster loss prevention.  The Webinar will be held on May 12th at 2 p.m. EST, to view the invitation and sign up please click on this link:
https://m2sys.com/free-loss-prevention-webinar.htm
This Webinar is the 2nd in a series of free workshops to educate retailers on the value of using PalmSecure Palm Vein biometric technology and the M2SYS Hybrid Biometric Platform in several capacities for retailers.  The first Webinar in the series was held back in March and covered the value of using Palm Vein biometric technology to eliminate time theft.  You can view a copy of the PowerPoint slides of that presentation by clicking on this link:
CloudApper Solution Community for UKG
We empower users to customize solutions
When features are needed to enhance UKG solutions, CloudApper is here to help. It's a non-technical toolkit for customizing UKG – easily build anything you want, share it with the community, and help everyone thrive.
Learn More
Top customizations shared by the UKG solution community

Capture time
with QR codes

Capture time
with biometrics

Track
employee tasks

Generate
custom reports

Schedule
employee tasks

Ensure
HR compliance

Send personalized
alerts

Capture time
with geofencing

Build custom
dashboards

Capture
time with NFC

Capture Job transfer
with barcode

Manage HIPAA
compliance
https://www.slideshare.net/M2SYS/slide-share-power-point-fujitsu-palm-vein-time-theft-041811
We encourage retailers, or anyone else who is concerned about the impact of shrinkage and the need to beef up loss prevention policies to attend this important Webinar.  Last year, we wrote about the problem of loss prevention and how the unique attributes of biometric technology can help to tighten role based security and establish airtight access control. In addition, PalmSecure Palm Vein biometric technology can help:
Lower False Returns
Raise Employee Accountability
Protect Data
Increase Efficiency
Identify High-Risk Individuals
Prevent Unauthorized Access
Establish Concrete Audit Trails
Space is limited for this Webinar so please reserve your spot today!