@Fresno_State using @M2SYS @Right_Punch Biometric Time Clock for Employee Time & Attendance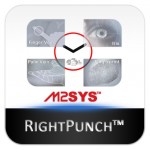 Today, M2SYS announced that another California State University campus has incorporated their RightPunch™ biometric time clock using palm vein technology to keep track of employee time and attendance. California State University, Fresno Association, Inc. has implemented the M2SYS RightPunch™ palm vein biometric employee identification technology with Kronos Time and Attendance Software to help optimize labor tracking performance. Click here for a copy of the news release.
Joining with Cal Poly Pomona Foundation, Inc. who currently uses palm vein biometrics with the RightPunch™ biometric time clock, California State University, Fresno Association, Inc. chose to implement a PC-based biometric time clock with their Kronos Time and Attendance software to more efficiently manage and track labor costs and reduce employee time theft. In addition, California State University, Fresno Association, Inc. also sought to speed punch times and avoid costly legal expenses and legal fees which can often be a tremendous financial and resource burden.
RightPunch™ drastically reduces payroll error rates and helps expedite the clock in/clock out process to boost employee productivity and increase accountability. Plus, RightPunch™ is a more affordable alternative to a wall mounted biometric time clock and is powered by the M2SYS Hybrid Biometric Platform™ which offers support for fingerprint, finger vein, palm vein and iris recognition, ensuring that 100% of employees are reliably and consistently identified.
CloudApper Solution Community for UKG
We empower users to customize solutions
When features are needed to enhance UKG solutions, CloudApper is here to help. It's a non-technical toolkit for customizing UKG – easily build anything you want, share it with the community, and help everyone thrive.
Learn More
Top customizations shared by the UKG solution community

Capture time
with QR codes

Capture time
with biometrics

Track
employee tasks

Generate
custom reports

Schedule
employee tasks

Ensure
HR compliance

Send personalized
alerts

Capture time
with geofencing

Build custom
dashboards

Capture
time with NFC

Capture Job transfer
with barcode

Manage HIPAA
compliance
We welcome California State University, Fresno Association, Inc. into the M2SYS family of RightPunch™ users and look forward to working with more institutes of higher education and all others to help implement biometric time clocks to efficiently track employee time and attendance.