#biometricchat Postponed for May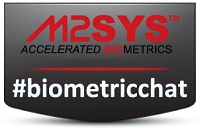 May is an extremely busy month for us at M2SYS and with all of the travel, new product development, and other initiatives we unfortunately have to cancel this month's #biometricchat. We will return next month however, with an exciting new topic, a new guest and some great discussion.
Thanks to all who have supported the #biometricchat since our launch in the fall of 2011, for copy of all the transcripts please visit our blog or you can check out our Storify account. We are always open to suggestions on topics or guests for the chat so please email jtrader@m2sys.com if you have any ideas.