Biometric Solutions For School Lunch Line Point Of Service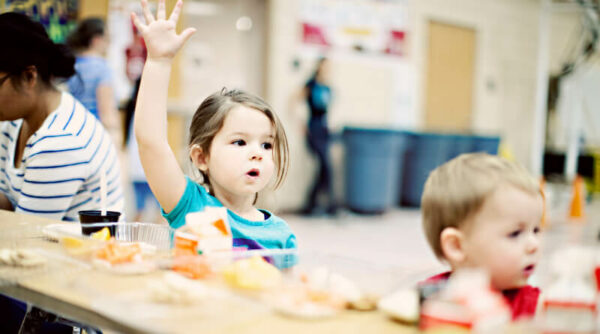 The Lunch Lines They Are A Changing
Modern day lunch line point of sale (POS) software requirements must transcend the ability to just ring up a sale and generate a receipt.  There are a host of areas that school food service POS technology must address ranging from quick and accurate check outs to the security of students necessitating a flexible and agile POS system that interfaces easily with back end accounting and inventory systems.  Many schools adopt PIN pad entry or barcode scanning systems but later find that students often forget their PIN #'s or leave their ID cards at home causing logjams in the lunch line, frustrated staff and embarrassed students.  Worse still, bullies can steal the PIN # or ID card of another student and use it fraudulently to pay for their own meals.  The question becomes, how do you implement a lunch line POS software system that assures smooth transactions and lunch line flow but at the same time keeps student safety, security and accountability paramount?  Many schools are turning to affordable and safe biometric fingerprint recognition solutions as the answer.
Biometric POS Software Systems
The fast paced world of today's lunch line POS environments demands user-friendly software that can handle transactions with speed and accuracy to maximize profits without sacrificing precision or security.  A biometric POS software system eliminates the need for students to remember a PIN code or use a barcode ID when they get to the register.  The student simply scans their finger on the biometric hardware and immediately their identity is established and transaction recorded.  The process is fast, safe, reliable and accurate.  It maintains the flow of the line allowing students who sometimes only have 20 minutes or less for their lunch period to get in and get out as quickly as possible.
More Schools Adopting Biometric Technology
More and schools are turning to affordable biometric POS systems as a trusted component of their cafeteria management software technology to incorporate secure systems that hedge against losses by boosting the accuracy and security of transactions.  Fingerprint recognition has become the mainstream biometric modality of many lunch line POS systems but as biometric technological advances have evolved, more schools are choosing advanced biometric technology such as fingervein, palm vein and iris recognition as their modality of choice due to the inherent benefits that are included in these hardware modalities such as lower False Acceptance Rates and a more hygienic scanning environment.
Privacy Concerns
There are many rumors virally circulating about biometrics and its privacy implications for children.  Some fear that if a hacker breaks into the school computer system and steals a biometric template, the damage is irreversible and not able to be corrected.  Others say that once a biometric template is established for a child, it gives free reign for any governmental agency to lawfully access that template to create a national registry of biometric identification information.  The truth of the matter is that biometric enrollment templates stored on a server are not actually an image of the fingerprint at all.  They are a mathematical representation of the data points that a biometric algorithm extracts from the scanned fingerprint.   The algorithm then uses the template to positively identify a child during subsequent fingerprint scans.  No image of the fingerprint is ever stored or transmitted across a network.  In addition, the algorithm is "one way" which means that the template that is extracted is nearly impossible to be used to recreate the original fingerprint image.  In other words, it is nearly impossible to reverse engineer the data that is sent to positively identify a child and successfully "steal" their biometric identity.
Biometrics Are The Future – Bar Codes And PIN's Are Not
As more schools adopt biometric identification technology for their lunch line point of service needs, word is spreading fast about the distinct benefits that biometrics creates for efficient cafeteria management.  The focus on cafeteria lunch line best practices over the years has evolved into developing faster and smarter ways of planning and executing tasks with less staff, less overhead and higher security.  Biometric technology fits well into this evolution because it offers speed and flexibility for identifying students and can easily be interfaced into most existing cafeteria management software systems at a very affordable price point.  It trumps bar codes (no card to forget with biometric identification) and PIN's (no longer need to memorize numbers), allowing schools to implement a modernized mode of student identification with the peace of mind that their students are safe and moving quickly through the line.  If you haven't heard about the benefits of biometric technology we encourage you to contact us, or visit our Web page for more information.
How would incorporating biometrics in your lunch line POS technology be a benefit to you?