The Rise Of Palm Vein Biometrics For Patient Identification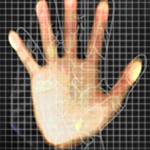 The Story
We ran across a news story this morning about yet another healthcare facility choosing palm vein biometric technology for accurate patient identification.  Here is a link to the story:
https://www.chron.com/disp/story.mpl/chronicle/7508629.html
How Does Palm Vein Biometrics Work?
If you have been keeping up with the latest advancements in biometrics recently, then you are probably familiar with palm vein technology.  However, if palm vein biometrics is new to you and you aren't quite sure what it is, allow us a second to explain how the technology works:
Unlike fingerprint biometric technology which relies on the integrity of the skin on the fingertip for accurate identification and can be susceptible to age, environment, cuts, scrapes, bruises, scars, dirt, grime and grease, palm vein biometric technology relies on capturing an image of the vein pattern beneath the skin and using that image as the basis for individual identification.  Unlike fingerprint technology, the integrity of the skin is not an issue with palm vein biometrics.  By using near infrared light to capture a palm vein pattern beneath the skin surface to identify an individual, it bypasses the need to have quality fingerprints in order to successfully use a biometric identification system for nearly 100% of end users.
Why is Palm Vein a Good Fit for Healthcare?
As we had mentioned in a previous post, the healthcare industry is crippled by the costs, liability and decline in quality patient care that inaccurate patient identification brings.  Not only does biometric technology solve this problem by eliminating patient fraud and lowering hospital liability but palm vein healthcare biometrics fits hand in glove with the unique needs of the industry.  Since healthcare caters to an extremely wide demographic of end users with a higher than average percentage that have less than ideal fingerprint integrity, palm vein biometrics is a great fit to ensure that everyone is accurately identified, all of the time.
RightPatient from M2SYS
Luckily, the healthcare industry has RightPatient from M2SYS to rely on for their patient identification needs.  Combining the power of Palm Secure technology from Fujitsu with the M2SYS Hybrid Biometric Platform, healthcare biometrics technology is a powerful tool in the fight against inaccurate patient identification.
Are you sacrificing quality care due to the absence of a reliable patient identification technology?  Please contact us for more details on how RightPatient can work for you.