Iris recognition Vs. Palm Vein Biometrics – How do they compare?
If you are somewhat familiar with biometric technology and its use around the world, you probably recognize that iris recognition and palm vein biometrics are two completely different modalities, but did you know that they share some common characteristics? To begin with, both iris recognition and palm vein biometrics are biometric modalities used in identification and authentication of an individual. Iris recognition biometrics uses a detailed photographic image of the iris for identification whereas palm vein biometrics captures an image of the pattern of the veins under the skin of the palm for identification. Both of these biometric modalities are very effective and their implementations are determined by the environments each one is most suitable for.
Let's take a look at these modalities and how they compare to each other in terms of functionality:
Iris Recognition Biometrics
Our eyes have a colored ring around the pupil called the iris and just like a fingerprint, one iris pattern will never be the same as another person, even in identical twins. Each iris has a unique pattern; it is essentially a muscle that controls the size of the pupil, adjusting the amount of light that can enter the eye (I'm sure you have noticed how the pupil immediately gets smaller when you hold a flashlight to your eye; that's the iris in action).
Iris recognition biometrics is used to identify an individual by analyzing the unique pattern of the iris from a certain distance. Iris recognition biometrics is contactless, which makes it the most hygienic biometric modality and an ideal for safe use in environments like healthcare. Iris recognition is also the most accurate form of biometric identification currently available with extremely low FAR (False Acceptance Rates) and FRR (False Rejection Rates).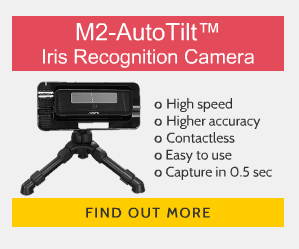 Iris recognition biometrics uses sophisticated digital camera technology to acquire images of the detailed unique structures of the iris, and then compares this data to an encrypted enrollment template on file. Iris recognition matching is based on 1:N search capabilities making it the most suitable modality for large databases, where palm vein biometrics is at a disadvantage with large databases because it uses 1:1 matching which requires database segmentation to work efficiently. One great advantage of iris recognition is that it isn't affected by spectacles or contact lenses and can be accurately scanned from between 10 cm to about 2 meters away.
The areas in which iris recognition are most suitable are airport security and access control at restricted areas at airports, border control, passport substitutions, single sign-on, patient identification and access control.
Palm Vein Biometrics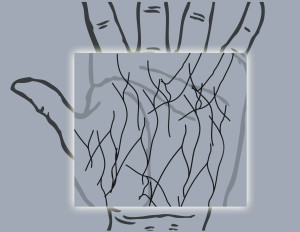 Just like the iris, palm vein patterns are unique to every individual, even identical twins. Palm vein biometric technology captures an image of the vein pattern beneath the skin and uses that image as the basis for individual identification. Palm vein biometric technology uses near infrared light (the same technology used in TV remote controls) to capture a palm vein pattern, so it does not require high quality skin integrity for accurate identification.
Since palm vein biometrics relies on scanning the vein pattern under the skin, it is considered to be an extremely secure and reliable biometric modality. Unlike fingerprint biometric technology which relies on the integrity of the skin on the fingertip for accurate identification and can be negatively impacted by age, environment, cuts, scrapes, bruises, scars, dirt, grime and grease, the integrity of the skin is not an issue with palm vein biometrics.
Due to the reliability, ease of use, and speed of palm vein biometric technology, it can be deployed in a variety of implementation settings such as student identification, and border control.

Despite the fact that it is impossible to forge the palm vein pattern of an individual, there are quite a few limitations of palm vein biometrics. First, since palm vein biometrics require physical contact with a biometric device, it is not very hygienic and may require sanitizing the hardware after each use, especially if used in a healthcare environment. Second, another limitation is that palm vein technology can only be truly used in a 1:1 search capacity which limits its implementations to only small database environments. Overall, factoring in recent advancements in biometric technology as a whole, palm vein biometrics has become more like a "black-box technology," being stuck in its own limitations.
Conclusion
Both iris recognition biometrics and palm vein biometrics have their own advantages and depending on the deployment environment, one can be more effective than the other. However, when applications of the two technologies are compared side by side, in contrast to palm vein biometrics being the robust and reliable technology it is, iris recognition stands out as the superior technology – more technologically advanced, higher accuracy, and better positioned for the future of biometrics.