The Winner of the RightPatient™ Healthcare Biometrics HFMA Kindle Fire Giveaway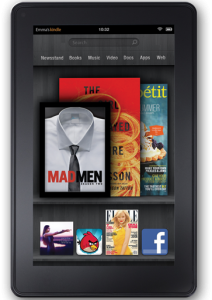 We were grateful to participate as a healthcare biometrics patient identification system vendor in the ANI 2012 Healthcare Financial Management Association (HFMA) trade show last week in fabulous Las Vegas. It was a great show which featured a keynote address by Captain "Sully" Sullenberger who talked about how healthcare professionals should change their mindset from "unavoidable" to "inexcusable" for safety related incidents that cost patient lives (estimated to be approximately 200,000 per year).
Will the move to electronic health records (EHR) help in that effort? There are many who say that moving from paper to electronic medical records will help to:
Improve access to care
Establish more efficient coordination of treatments
Reduce costs
Provide more accurate tools to measure outcomes
We are looking forward to working with the industry by providing a healthcare biometrics patient identification system to help prevent duplicate medical records, stop medical identity fraud, raise the level of patient safety, and save the healthcare industry millions of dollars per year.
At this year's show, we asked attendees to enter into a contest at our booth to win a Kindle Fire tablet and we are happy to announce that Matthew Racer from Memorial Hermann Texas Medical Center was the winner of our random drawing of entries. Congratulations Matthew and thank you to all who stopped by our booth to enter and see a live demo of the RightPatient™ iris recognition biometric patient identification system. Look forward to seeing everyone next year!