Three Ways to Improve Employee Productivity
In this competitive economy, employee productivity can be the determining factor for the future sustainability of an organization. The average American employee spends more than 8 hours a day in the workplace, according to the Bureau of Labor Statistics. Since the employer has to pay for the time an employee dedicates to the workplace, achieving a certain level of productivity is very important for the organization to reach and sustain growth expectations.
Here are three strategies an organization can implement to increase employee productivity:
#1 – Know your stats: Measure overall activity and productivity
To increase productivity, an organization must first accurately measure productivity. Whether the goal is to increase sales, leads, or overall return on investment (ROI), management must understand current sales statistics and know the amount of leads they are currently generating. Measuring current performance helps to identify and set benchmarks used to measure growth when improvements are implemented to increase ROI and employee productivity.
To improve productivity, a careful analysis of existing data that produces meaningful interpretations must be generated to get a clear idea on what areas need to be worked on to improve employee productivity. For example, to improve employee punctuality the HR Department should first know which employees are coming in late to work, time increments that measure how late they are, and how frequently they are doing it.
#2 – Drive engagement: Set goals and use feedback to help employees grow
Companies that provide feedback have higher employee engagement. Employees that are highly engaged receive analysis on work performance at least once a week. Engagement also means that employees understand that their work is an important part of the company's overall strategy and goals and that the company is depending on them to be productive. This increases productivity because employees can more accurately align their performance with the overall goals of the company and feel a sense of responsibility. Companies with high employee engagement have more productive employees.
Management should regularly check and benchmark employee goals, measure progress, and analyze productive hours. Unproductive hours may result from distractions at the workplace, spending too much time on non-work related websites, or spending too much time in the cafeteria or break rooms. By identifying areas where employees are struggling with productivity, employers can help make improvements to increase productivity and help them reach their full potential.
#3 – Implement a biometric time and attendance solution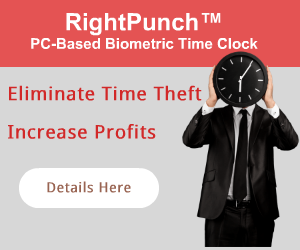 Another great way a company can increase employee productivity is by implementing a biometric time and attendance system with its workforce management software. With a biometric time and attendance system, employees provide a biometric credential to log in and out of the time and attendance system, and is used to record when employees start and stop work.
Since the time and attendance system uses biometrics for individual identification, employees cannot clock in for one another, thereby preventing employee time theft and buddy punching. According the American Payroll Association, buddy punchers cost U.S. companies nearly $400 billion per year in losses. Due to the fact that biometrics are unique, one employee cannot punch in or out for another, resulting in timely attendance and millions of dollars in potential savings for organizations. Furthermore, when employees are able to visualize the source of wasted time, it becomes much easier for them to focus on eliminating those distractions.
Affordable Biometric Time Clock Software
Biometric time and attendance solutions have a direct impact on employee productivity. They enable more efficient payroll processing by eliminating time spent on manual reentry of timecard data to process payroll. Companies that use manual timekeeping and payroll processes have to spend five hours or more on average to run payroll at the end of every pay period. A biometric timekeeping solution can prevent the loss of productive hours by reducing payroll processing time to a matter of minutes. Automating employee time and attendance data collection with biometrics facilitates the automatic transfer of authentic data to the payroll solution for payroll processing. Reducing the time it takes to run payroll while increasing data accuracy with biometrics leads to increases in employee productivity.
Conclusion
Experts in workforce management believe that the use of biometric time and attendance systems are likely to significantly increase in the near future due to their unique ability to eliminate buddy punching and time theft. Biometrics improves the ease-of-use, efficiency, and accuracy of timekeeping systems while saving payroll costs and increasing productivity.