RightPunch for Kronos Improves Patient Experience of Hospitals
RightPunch biometric time clock identifies employees using their biometric data and clocks their working hours in the Kronos environment. But how does a biometric time clock improve patient experience of a hospital or nursing home? Yes, it's possible. Since 2001, M2SYS technology is working for the betterment of human beings, and literally, they used their innovation to change the world. As a part, their contribution to the healthcare industry is outstanding. For identification of the right patient, they introduced a biometric patient identification system; on the other hand, their RightPunch cloud application improves patient experience managing their workforce.
How RightPunch Improves Patient Experience?
Happy Staff = Happy Patient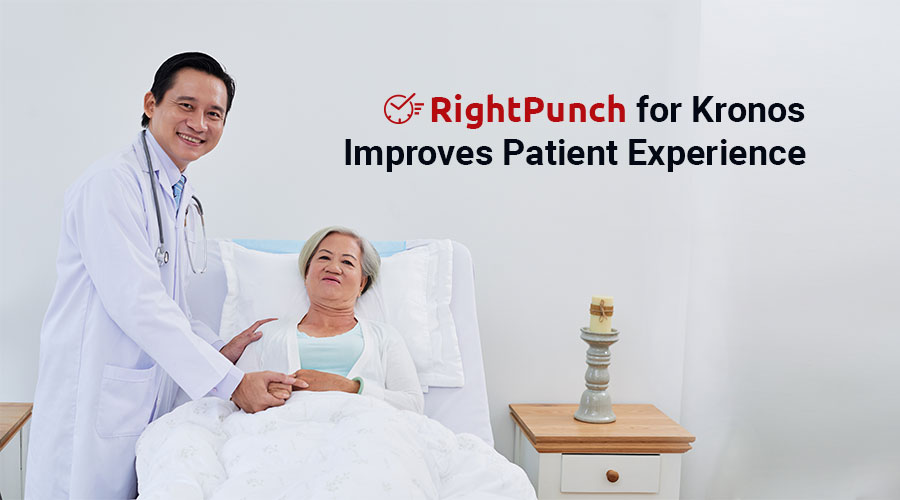 CloudApper Solution Community for UKG
We empower users to customize solutions
When features are needed to enhance UKG solutions, CloudApper is here to help. It's a non-technical toolkit for customizing UKG – easily build anything you want, share it with the community, and help everyone thrive.
Learn More
Top customizations shared by the UKG solution community

Capture time
with QR codes

Capture time
with biometrics

Track
employee tasks

Generate
custom reports

Schedule
employee tasks

Ensure
HR compliance

Send personalized
alerts

Capture time
with geofencing

Build custom
dashboards

Capture
time with NFC

Capture Job transfer
with barcode

Manage HIPAA
compliance
Do you agree with this? We do, and here the RightPunch works. Usually, hospitals face a number of challenges regarding their workforce, which affect their services, as well as patient experience. Some significant reasons are employee time theft, buddy punching, scheduling, payroll, and compliance issues, etc. Using biometric technology, RightPunch empowers the Hospitals that use Kronos workforce suites to overcome the challenges.
A biometric clocking system for Kronos helps users to manage scheduling and timekeeping properly. As the biometric data is impossible to share with others, it prevents employee time theft and buddy punching. It raises accountability among the employees, and on the other hand, simplifies the payroll processing. A distinct timesheet also helps Hospitals to reduce compliance expenses.
How Does RightPunch Contribute?
See how does RightPunch for Kronos improve patient experience, increasing efficiency of the employees in the Kronos environment:
Accurate Workforce Timekeeper
Prevents time theft

Eliminates buddy punching

Records accurate working hours
Workforce Mobility
The mobile app enables users to submit punches from their mobile devices

The user dashboard shows the timecards
Building Accountability
Accurate identification raises accountability

Everyone knows that they are identified and responsible for their work
Accurate Overtime Tracker
Determines the overtime requirement in real-time

Biometric punches clocks accurate overtime of the staffs
Impact of RightPunch
RightPunch seamlessly works together with Kronos workforce suits to clock accurate punches. It raises accountability and encourages employees to avoid intentional longer breaks.

As the clocking data derived from the biometric punches of the employee, it reduces the errors in payroll. Employees are also concerned about that, and dissatisfaction regarding payroll dissolves.

This clocking system doesn't discourage employees from taking short breaks or meal breaks but assures proper tracking of the time used in work or in the break.

Whenever the attendance, accountability, and payroll, all of these issues are being transparent employees, feel better, and there is no room for any dissatisfaction.
Finally, the happy employees and the proper time management in schedules drives employees to give their best effort while serving any patient.