Archbold Memorial Hospital Deploys RightPatient® Biometric Patient Identification Solution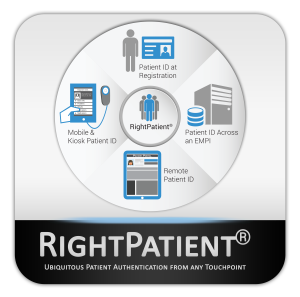 Today on our corporate Web site we announced that Archbold Memorial Hospital has deployed our RightPatient® patient safety and data integrity solution. Designed to improve patient safety and medical data integrity, Archbold sought to deploy a next-generation biometric patient identification solution that supported hospital infection control, and would instantly retrieve a patient's medical record after a fast biometric search.
Archbold will initially be using the RightPatient® biometric patient identification system in their Emergency Department but has plans to expand the deployment to other areas of the hospital including:
Patient ID at bedside
Self-service patient check-in (kiosks)
Mobile patient identification
Flexibility to be used at any point along the care continuum
Archbold will use the technology at their flagship location in Thomasville with plans to expand use to their 540 bed network. Executives at Archbold cited the need to increase patient safety as their top concern that accurate patient identification technology will help improve. Plus, mitigating the risks associated with misidentification were a key factor in their decision to invest in RightPatient® – risks that not only jeopardize patient safety but inhibit Archbold from offering the highest quality care possible.
The RightPatient® enrollment process is safe, secure, and fast. Patients simply have their photo taken and that along with a photograph of their iris are automatically linked to their Siemens EHR so that when a patient returns to the facility, they have another photo taken and their Siemens EHR is automatically accessed eliminating the worries of creating duplicate medical records, overlays, or overlaps. RightPatient® offers a choice of five different biometric modalities (fingerprint, finger vein, palm vein, iris, and voice) and Archbold decided to deploy iris biometrics as their modality of choice citing the absence of any physical contact with a biometric hardware device as key to their need in supporting hospital infection control initiatives.
RightPatient® is our patient identity and data integrity platform that utilizes our unique Intrinsic Human Recognition™ technology. It is the industry's only patient identity and medical data integrity platform that uses fingerprint, vascular, iris, facial, and voice impressions to strengthen patient safety, eliminate fraud and medical identity theft , and reduce provider liability. RightPatient® is built upon the uTrinsic™ platform using a combination of various biometric and human identity variables to ensure seamless patient authentication across any medium and touchpoint. This ubiquity is the best way for providers to generate clean data to lower costs
and secure patient trust.
Proud to be working with the Archbold staff to help strengthen patient safety, eliminate duplicate medical records, and prevent healthcare fraud and identity theft at the point of service with our RightPatient® solution!