Top 5 Advantages of Remote Employee Time Tracking Software
The time tracking concept came from the necessity of providing remote teams an essential structure, visibility, and transparency. While it helps managers to coordinate resources, it also provides virtual or remote workers the chance to master their performance. The invention of the time tracking tool has helped to track check-in time and working hours of remote employees automatically. This is a useful remote employee time tracking software that assists workers to focus on what they have been hired to do. This is how it works: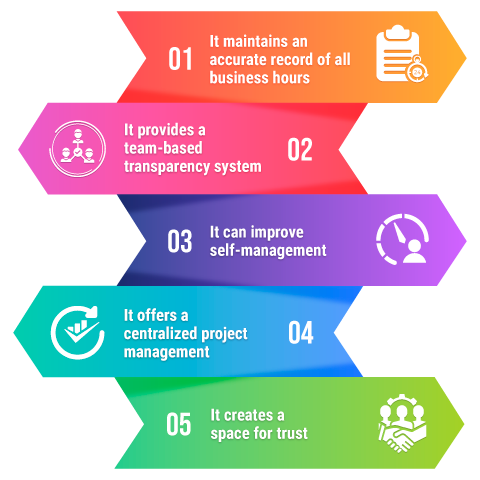 It maintains an accurate record of all business hours
Time trackers automatically document logged-in hours of all employees, and show a complete picture of where employees are spending their work hours. It eliminates the chance of misreporting business time by removing the dependency on manual input. This is helpful to see the actual time spent on an individual task. It also helps to ensures that all projects are accounted for and billed appropriately. 
It provides a team-based transparency system
With this software, every employee has the opportunity to see what co-workers are working on. This helps employees to understand how they can support and coordinate with other remote workers.
It can improve self-management
A remote worker needs to ensure a balance between the flexibility or working remotely and a structured work schedule. Time tracking can help to maintain this balance by providing employees with the data to master their own performance management. Employees can determine which tasks are taking a long time to complete by seeing the time spent. They can also find the reason for distraction and the areas of improvement. By differentiating the planned and logged time, employees can understand how much time they will need for each task in the future. 
It offers a centralized project management
Features like customized quick reporting and real-time view of projects on a dashboard help remote workers to see progress on the go and prevent the need for shuffling files for data. It shows total work hours for each project, activity for an individual project and tracks budget spend. This also helps to estimate future decisions in an accurate manner by showing activities and task durations. 
Remote employee time tracking software creates a space for trust  
Remote mentoring is a matter of mutual trust and respect. The employee time tracking software doesn't create any threat for employees, rather it promotes employee engagement and provides a secure space for everyone to manage and improve their own performance and work efficiency. Anyone using the software should be able to see their own timesheets, activity time and project tasks. It's a reliable platform to build an honest and open working culture and employees can feel comfortable using this software.
Employee performance monitoring and time tracking are some of the best ways to monitor an employee's activity. It helps to understand an employee's engagement level. Using CloudDesk remote employee monitoring software, it is easy to see an individual employee's productivity and how much time is wasted on a particular day. It provides the data for managers to discuss with employees if there's a need for improvement or work efficiency. This helps both the firm and the employees and is a win-win situation. If you want to see improvements and better performance in your remote employees, then hit the Contact Us button.