CloudDesk vs Hubstaff: Better Productivity Tracking Software
Compare the features of CloudDesk and Hubstaff productivity tracking software side by side and pick the one that best suits your needs.

Hubstaff: Hubstaff is a software for time tracking that substitutes for the manual timesheet system. The software makes managing a remotely working workforce easy. It's quick, simple, and above all an effective program for managing remote workers and freelance employees.
Though CloudDesk is equally appropriate for freelancers and other related work categories, HubStaff allows you to set up a payroll process based on the recorded hours, making it ideal for freelancers. HubStaff may be more convenient if you require assistance in managing and paying an outsourced team.
You can do the following with Hubstaff:
• Accurate monitoring of time
• Employees' automatic screenshots are monitored.
• Payroll for process employees and invoice clients
• Excellent for small teams. Individual remote workers or freelancers
HubStaff might be more convenient if you want to guarantee that the work is getting done and you're are there to see it. Although CloudDesk also allows you to keep your team update, HubStaff will delve into the above procedure in greater depth, based on your requirements and needs.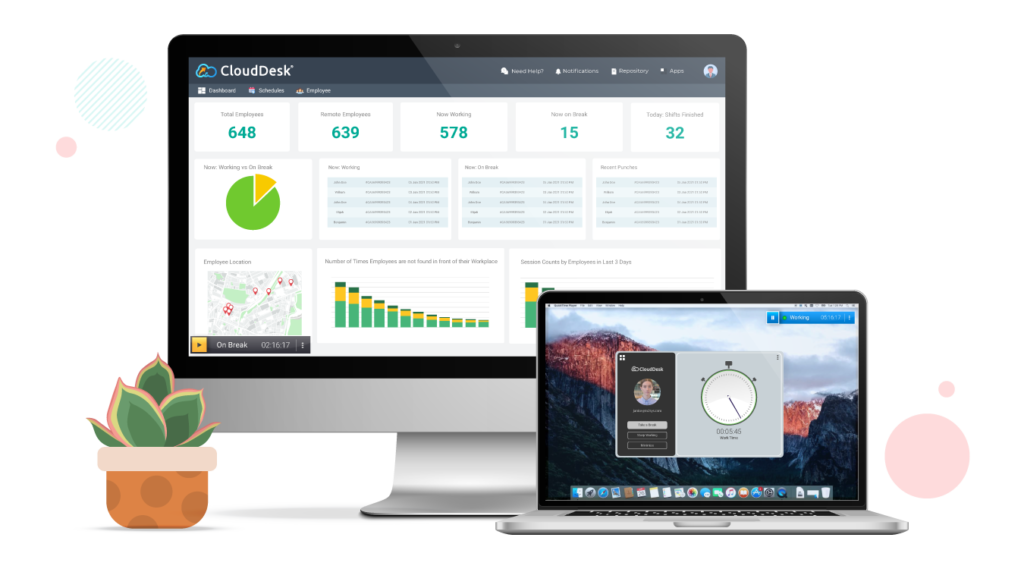 CloudDesk: CloudDesk is a robust productivity management and time tracking system used by small/medium to large businesses to increase the productivity of both in-office and remote workers. CloudDesk is a highly scalable software, which makes it ideal for employees in a variety of fields.

You can do the following with CloudDesk:
• Employee time tracking that is accurate
• Keep track of idle time.
• Create powerful reports that include visual data to detect productivity issues for further improvement.
• Keep track of how much time employees spend on the company's website and apps to ensure that they are dedicated and productive.
• Random screenshots are taken to keep employees focused.
• Face Id verification of an employees to validate their presence using facial recognition.

CloudDesk is a robust productivity management and time tracking system used by small/medium to large businesses to increase the productivity of both in-office and remote workers. CloudDesk is a highly scalable software, which makes it ideal for employees in a variety of fields.

CloudDesk and Hubstaff are both employee monitoring software, both of which can aid more productive teams. But which is the best alternative when it comes to functionality, the convenience of use, and affordability?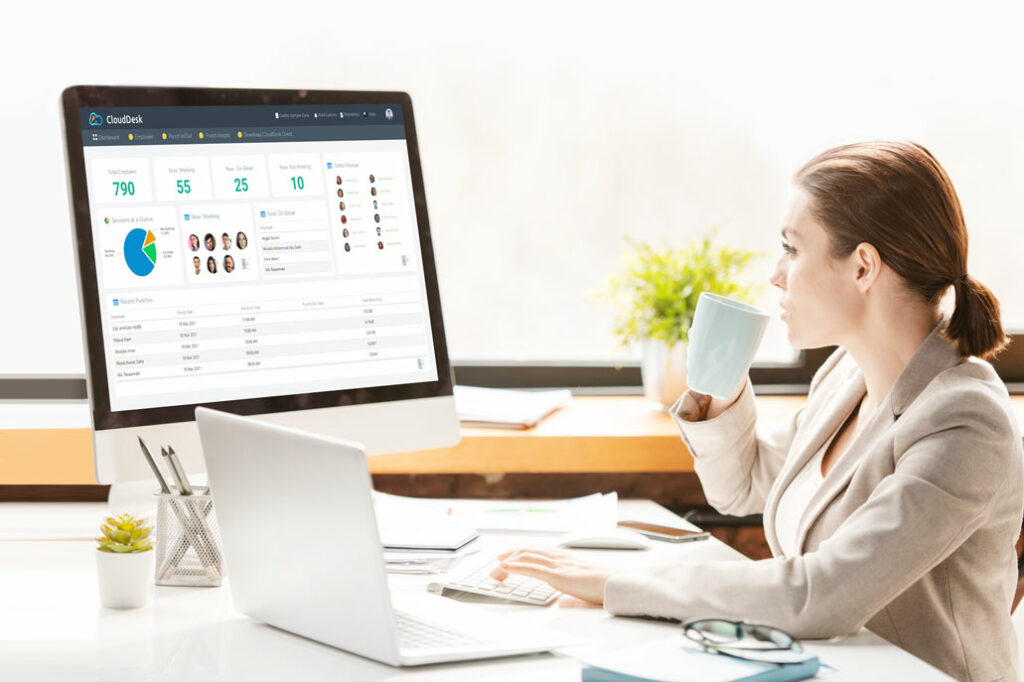 Features Comparison Table
| Features | CloudDesk | Hubstaff |
| --- | --- | --- |
| Time Tracking | Yes | Yes |
| Web & App Usage | Yes | Yes |
| Engagement Tracking | Yes | Yes |
| Idle Time | Yes | Yes |
| Activity Monitoring | Yes | Yes |
| Screenshot | Yes | Yes |
| Summary Report | Yes | Yes |
| Real Time Monitoring | Yes | No |
| Identity Verification | Yes | No |
| Geofencing | Yes | Yes |
| Integration | Yes | Yes |
| Free Plan | Yes | No (14 Days Free Trial) |
While both CloudDesk and Hubstaff are outstanding remote employee monitoring tools, their features differ slightly.
Let's look at it more closely:
1. Time Tracking

Hubstaff: Hubstaff is a time tracking software with an emphasis on productivity improvement. Users have complete control over when the application tracks time with its manual time tracking option. Simply click the red "stop" button when you're done working or taking a break. That's it.

CloudDesk: CloudDesk features an automatic time monitoring functionality that you can activate when you launch a specific program or type specific words. Within the app, these triggers can be adjusted. To begin tracking your time, simply click the "start" button, then "stop" when you're finished.
Using a manual time tracker has numerous benefits:
• Employees are aware that their time is being tracked since they are in charge.
• Employees can keep track of their own working hours and breaks.
• You're less likely to get distracted if you're conscious of your own time.
• Employee privacy is protected as interactive time tracking only records web and app usage while the program is active.
2. Task Management:
Hubstaff: Hubstaff's project management dashboard gives you a complete picture of all your projects.
From the dashboard, you'll be able to monitor the following:
• When it comes to projects, how much time is spent on them?
• The period of time it took to accomplish a project.
• Other project time estimates.
This feature can help you figure out how much time you'll have to devote to a project, how successfully it has been allocated, and if you'll be able to meet future deadlines.

CloudDesk: Although CloudDesk's primary focus is on-time tracking and measuring productivity , it also includes several project management features. Managers, for example, can assign tasks and projects to individual employees. Once a project manager has created a new project with at least one task, the project manager can assign it to all employees, a select group of employees, or a specified group of employees.
In the team dashboard, you may also view essential project data, such as:
• The total amount of time spent on the project.
• The team's productivity levels.
• Employees who are the most productive, and more.
3. Idle Time Tracking

Hubstaff: Hubstaff's desktop timer detects inactivity and always asks the user whether or not they want to keep the idle time. By default, this occurs every 20 minutes. However, using the idle time options, you can change this setting at any moment. The intervals offered are every 5, 10, 20 minutes, or never.

CloudDesk: Productive time refers to the time spent by employees on a business, which means the real-time they are worked. In addition, idle hours are recorded when an employee is not working while the tracker is activated. A default pop-up appears to take Face ID verification, and the tracker goes into break mode if an employee is not found at their desk.
4. Reporting And Analytics

Hubstaff: Hubstaff can generate several reports. Let's look at these:
• Detailed report: Individual time entries for a certain date range are displayed. You can also sort the data by user, client, project, task, and so on.
• Summary report: Enables you to get a larger picture of your monitored time by checking the billable hours, clocked hours, etc for various tasks.
• Weekly report: Estimate how much time you've spent tracking in the last week.

CloudDesk: CloudDesk generates a variety of reports for you, including:
• Activity Summary: Over a given time period, it displays active minutes and seconds as well as unproductive, manual, and mobile time.
• Projects and Tasks: Specifies how so much time each project takes. The report also breaks up each user's particular tasks in this project.
• Timeline: Displays when your employees begin and complete their workday, as well as the amount of time they spend working and taking breaks.
• Web and App Usage: Details of how much time you spend on various websites and applications to make ensure that you are productive.
• Hours Tracked: Shows the number of hours that users have tracked during a certain period.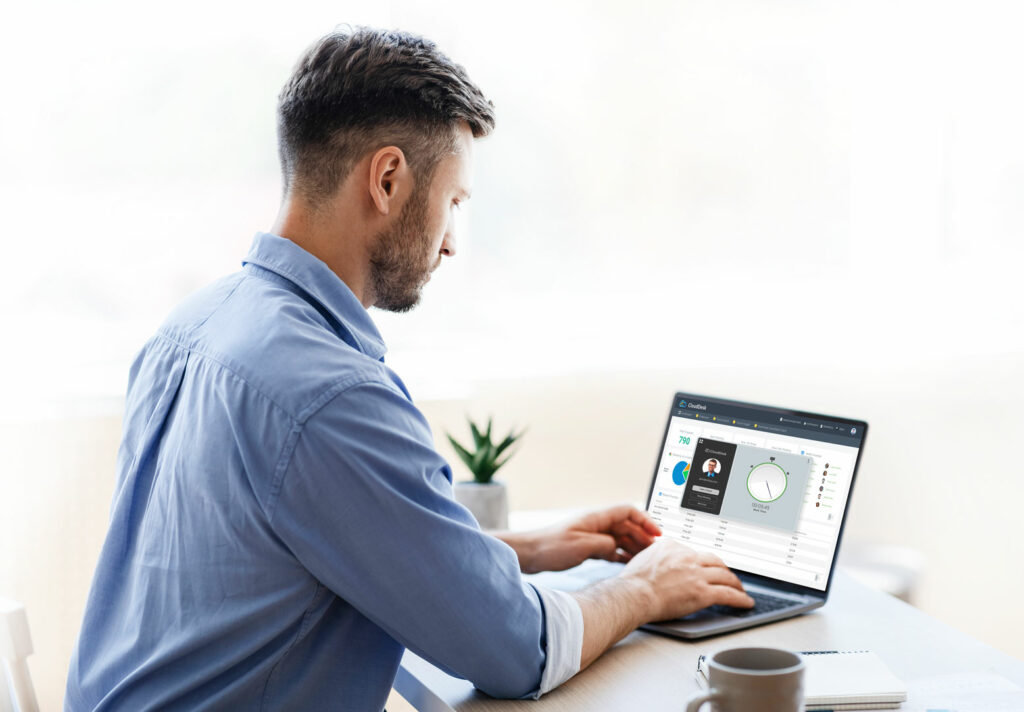 The Pricing Plan
| CloudDesk | Hubstaff |
| --- | --- |
| Has a free plan with basic features, which is perfect for small businesses or solo freelancers | Has Free plan without Basic features |
| Premium Package is $5/user/ month with all features | Has 2 Pricing plans, Basic and Premium. Price range starts from $5.83  to $8.33 per user per month. |
| Unlimited Apps from CloudApper Market Place |   |
CloudApper, a No-Code Enterprise Mobile Apps Platform, powers CloudDesk. As a result, when businesses use CloudDesk, they have access to CloudApper's popular marketplace apps. Adding new apps comes at no extra cost. As a result, you may enjoy the benefits of various apps while staying within your budget.
Final Verdict
Monitoring employees should be easy and affordable. Why pay unnecessarily when you can get same feature at lower price. You don't need too many features to get the productivity metrics of your employees,  too many features make the software confusing and difficult to use. CloudDesk offers you the necessity features at the best price. With its highly affordable price and easy to use design, start using this employee monitoring software from today and realize its immense benefits.
CloudDesk vs Teramind – Feature and Pricing Comparison
CloudDesk vs. Workpuls | Which one is better?
CloudDesk vs. ActivTrak | Choose The One More Suitable For You
CloudDesk vs Time Doctor: Which is the Best Employee Monitoring Software?