Business Automation Upgrades Your Employees Will Thank You For
We live in an age of so much technology, it's a surprise more companies today don't take advantage of all of these automation tools. With automation, it's possible to get more done in less time. Your employees are tired of wasting time and energy on tasks that don't contribute to the success of the company. Luckily, they no longer have to.
Every business has those little inefficiencies that really take a toll on the company. Whatever yours are, it's time to leave them in the past for good. An impressive 30% of employees today think automation will make their job better. Here are the best business automation upgrades to embrace today.
1. Employee Onboarding
We've all experienced an inefficient onboarding process at some point in our professional careers. Some companies just seem to stumble through this process, and it's a big turn off for new employees. When the onboarding process is simple, clear, and effective, it shows the new employee that their employer is serious about integrating them to the team.
If your onboarding process is in need of a facelift, invest in an automated onboarding tool. Tools like JustWorks and BambooHr are all about making a positive first impression when it matters most. They walk your employees through everything from day one so they're set up for success without the extra effort.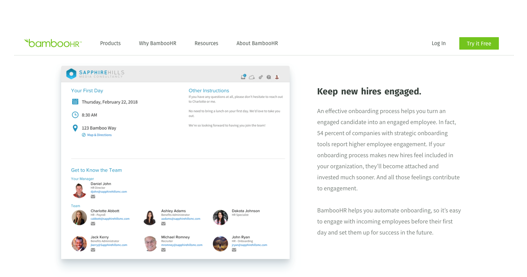 Screenshot via BambooHR
2. Office Support Process Automation by CloudApper
Automating your office support processes will ensure you're managing your business wisely. With óSuite by CloudApper, you can find all of your support applications from one platform. Track your support issues and manage your contracts all in one system. Your customers need their problems solved smoothly, and now it's easier to do just that. Save both time and money by investing in one simple solution.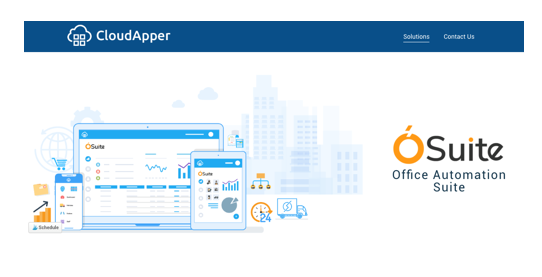 Screenshot via óSuite
3. Employee Scheduling
Scheduling your employees isn't always simple. Not only do you sometimes have to work through several scheduling needs, but you'll also need to take into account days off and other requests. With a tool like Humanity, you can keep all of these in one place. Because it's automated, Humanity never forgets when an employee requests time off or when they're unable to be scheduled.
In addition, this platform has other features to calculate total gross pay, build timecards, and clock in on the go. It really lets you take your business anywhere, whether you hire remote workers or have multiple office locations.
Screenshot via Humanity
4. Verify Identity
Biometrics are the latest way to verify employee identity automatically. Accountability and Cybersecurity are two of the biggest threats to businesses both big and small in this day and age. No matter your size or industry, you need to be concerned about your own data, their security and how they are being accessed.
Using a tool like Hybrid Biometric Platform™ by M2SYS will help you add biometric authentication functionality to your workforce management solution, identify visitors or even use them at the POS. Integrate an enterprise-wide biometric system with a single system – Hybrid Biometric Platform™. With the ability to utilize fingerprint, finger vein, voice recognition, and facial recognition in just a few clicks, you can't afford to overlook this technology.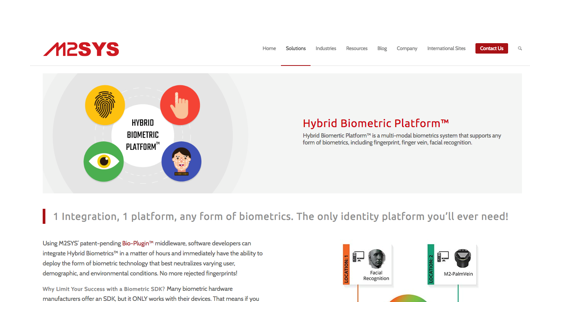 Screenshot via M2SYS
5. Team Communication
Meetings might seem productive on the outside, but they're secretly costing your business money. More often than not, meetings are unproductive and take more time than they're worth. A shocking 15% of an organization's time is collectively spent in meetings, resulting in over 37 billion per year spent on unproductive meetings in total. If you're like most businesses, you don't have that kind of time or money to waste.
Recording and documenting meetings is as important as the decisions of the meeting itself, and meeting minutes are crucial to keep track of those decisions. But, what are meeting minutes? They are an official record of the meeting for its participants and a source of information for teammates. They are meant to be a permanent written record for future references about decisions made during the meeting.
Instead, invest in automation communication options like Slack. These tools make it easy to get simple questions answered or even complex problems solved. With team channels, integrations with cloud software, and reminders, you never have to spend time going back and forth with meetings or emails again.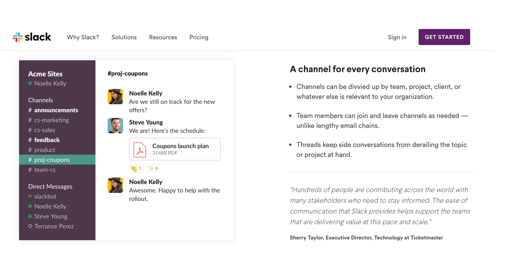 Screenshot via Slack
6. Automated Payments
Getting paid as a business isn't always as simple as it sounds. While in a perfect world, you'd never need to chase customers or clients for payments, this is rarely the case in real life. Thanks to recurring payments, online payment portals, and scheduled alerts, it's now much easier to get the money you're owed as a business.
Tools like Paypal and PaySimple help meet customer and client needs without the extra manpower. Finally, your employees can stop chasing payment and focus on actually doing their jobs. From scheduling payment reminders to one-time online payments, it's much easier with these tools to make more money faster.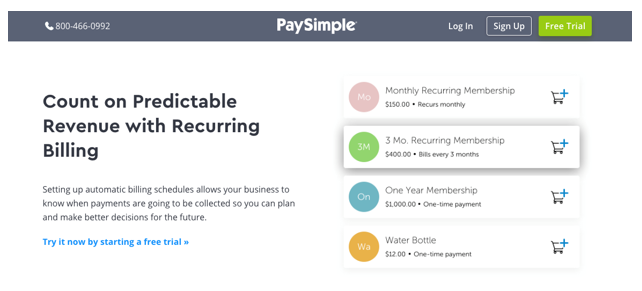 Screenshot via PaySimple
It's time to embrace a new era of productivity. You can use any edge against the competition you can get, so opt for these tools above today. Where will they take your business?