Technology Association of Georgia (TAG) Honors M2SYS as One of the Top 10 Most Innovative Companies in Georgia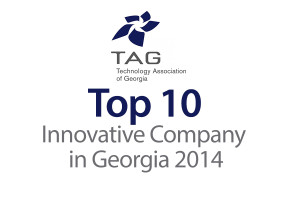 The Technology Association of Georgia (TAG – @TagThink on Twitter) bestowed the honor of naming us as one of the "Top 10 Most Innovative Companies in Georgia" this week! We are excited, humbled, and proud of this distinguishing honor from the TAG team and see it as a direct reflection of our commitment to pioneer innovation in the biometric identification technology industry.
We take a lot of pride in emulating our innovative spirit each and every day – directly reflected in the solutions we develop for the biometric identification management industry. Over the years, the team at M2SYS has been at the forefront of innovation, leading the charge to make biometrics more adaptable to real world conditions by using specific scientific multidisciplinary fields such as human factor engineering as a platform for engineering and design. We have shepherded many new concepts from ideas to reality that broke traditional molds and increased the security and convenience of biometrics as a practical solution to identity management. Here are a few innovation highlights:
We built and released Hybrid Biometric Platform™ – a client/server biometric software system that supports several types of biometric devices, including fingerprint, finger vein, palm vein, iris, and facial recognition. Using our patent-pending Bio-Plugin™ integration methodology, end users can implement Hybrid Biometrics™ in a matter of hours and immediately have the ability to deploy the form of biometric technology that best neutralizes varying user, demographic, and environmental conditions.
Sensing the need to develop a biometric hardware device that simultaneously captures both multiple biometric credentials in a single scan equipped with some of the most sophisticated liveness detection protection on the market and able to perform both 1:1 and 1:N matching for both fingerprint and finger vein templates in a PC-based environment we designed and built the M2-FuseID™ fused fingerprint and finger vein reader. When coupled with our Hybrid Biometric matching systems, the M2-FuseID™ biometric hardware device allows customers to perform one-to-many matching of millions of fingerprint and finger vein templates in seconds.
Identifying an opportunity to build a mobile biometric identification device that has the ability to simultaneously capture fingerprints, iris, and facial images and data from contact and contactless smart cards plus offers a lightweight, ergonomic design that can fit in your hand and slip into your pocket, we engineered the M2-RapidCheck™ multimodal mobile biometric system. A break from the mold, this device works seamlessly with our Automated Biometric Identification System (ABIS) and is compatible with any smart phone or tablet.
We continue to lead and innovate in the field of biometrics and continually push ourselves to design and develop unique, practical solutions that increase security and convenience and help to perpetuate the use of the technology for identification management. Additionally, M2SYS has been an early adopter of using social media to help educate, enlighten, engage, and inform others about the value of biometrics using several platforms, techniques, and methodologies to spread our message. We are proud to be a leader in the field and grateful to be headquartered in what is arguably the "Silicon Valley of the East" – Atlanta, GA. Atlanta is not only a hotbed of technological innovation but it also possess some of the deepest IT talent which we were able to leverage through the years as we continue to build our team of engineers and designers.
Proud of the chance to be recognized as an innovative leader. Excited at our prospects to continue developing some of the most practical and scalable products and solutions in the industry. Humbled to be singled out by TAG as a company worth watching. Grateful for our community and those that support us.
Thanks TAG!