Introducing a New Fingerprint Reader to our Family of Biometric Hardware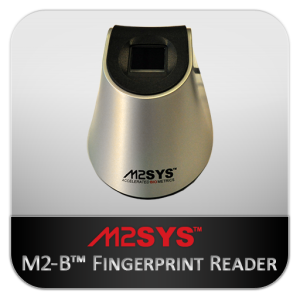 We are pleased to announce the launch of a new piece of hardware to the M2SYS family of fingerprint scanners, the M2-B™ fingerprint reader. This compact, ergonomically designed fingerprint reader is powered by our award winning Hybrid Biometric Platform™ fingerprint software and our Bio-Plugin™ biometric integration middleware.
The M2-B™ fingerprint reader features a high-quality, rugged, scratch-free 500 DPI optical fingerprint sensor, a plug and play USB 2.0 high speed interface, and is versatile for use in any scanning environment.
This fingerprint reader offers a host of benefits including:
Resistance to scratches, impact, corrosion, and electrostatic discharge (ESD)

Seamless integration into all M2SYS fingerprint software applications
Ultra-precise, FBI compliant 500 DPI resolution
A rugged design built to last, eliminating costly replacements
The M2-B™ fingerprint scanner  captures clear prints to help produce quality enrollment templates and accurate identification on each and every scan to help maximize system performance and facilitate user acceptance and trust in the system.
For more information on the features and benefits of our M2-B™ fingerprint reader, please take a look at this brief traning video which includes highlights of its capability, proper and improper scanning techniques, and the proper way to clean the reader during use.