How to maintain Your Employees Health During the Coronavirus?
Millions of people are affected by the deadly Coronavirus across the world. In this pandemic era, every country's governments have laid highly strict regulations for organizations to run their operations.
Businesses suffered tons of losses due to the spread of COVID -19 pandemic. Thousands of people have already lost their jobs due to layoffs by small as well as large organizations. The spread of pandemic has imposed many restrictions on the organizations due to which it became challenging for them to run their operations.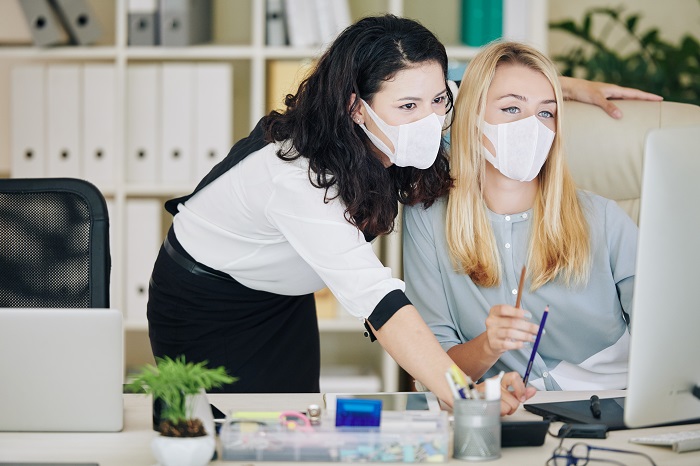 Although governments in many countries have allowed organizations to run their operations under certain restrictions, they need to have low employee strength. Also, businesses need to take care of their employees' health to stop the spread of the deadly virus. Let us explore the best ways to keep our employees healthy in the coronavirus era.
Encourage regular hand wash
As an employer, you need to encourage the employees to wash their hands frequently. Also, employees should sanitize their hands from time to time. Place the bottles of hand sanitizer at every entry and exit of the organization. Encourage them to quit the habit of touching their face with hands.
No Handshakes
Most people working in the corporate world develop the habit of handshaking. However, shaking hands can spread the coronavirus from humans to humans rapidly. Therefore, employers should put a restriction on handshaking and also put it in writing on small signboards across the premises.
Conduct a medical checkup
You can conduct a medical checkup of all your employees. Call a qualified physician or medical team to check all the employees for symptoms like fever, sore throat, and breathing problems. If symptoms of Covid-19 are found in any employee, the doctor can immediately refer them to the hospital for treatment.
Motivate your employees to make healthy choices
ental health is a huge concern during social distancing. Many are adjusting to less human interaction and increased time spent indoors. Inspire your employees to make healthy choices while working from home using the CircleCare app.
This software is designed specifically to improve job satisfaction and output by encouraging a holistic approach to wellness. Employees that participate in the wellness program can earn CarePoints for healthy actions such as logging vitals, burning calories, taking medicine, and communicating experiences
Perform routine cleaning
Employers need to ensure that floors and work environments are cleaned and disinfected regularly. Moreover, make sure that all the things that your employees touch are disinfected multiple times in a day. For example, doorknobs, countertops, and workstations are touched and used by employees. Therefore, you need to disinfect these things regularly to check the spread of the virus. It is best to keep disposable wipes in the premises so that employees can use them to wipe everything before use.
Talk to your employees about travel plans
It is essential to advise your employees to check the government guidelines before planning for any trips. Advise them to avoid going to the high traffic places or the areas where there is a significant number of Covid-19 cases. They should travel only to safe areas with proper precautions that are allowed by the local government. If the employees travel to the restricted areas without proper permission from authorities, they may face fines or consequences like quarantine.
Offer leave to sick employees
It is essential for sick employees to stay home as they may be affected by the virus. Doctors and health professionals recommend that employees with cold, cough, or fever symptoms should stay at home and take proper treatment. People with acute respiratory problems should be asked to receive proper treatment, and if they want to work, you should ask them to work from home. Every employee should make their sick leave policy flexible and consistent with the guidelines of the government and health department.
Communicate openly with your employees
Organizations need to make efforts to check the spread of the Coronavirus and keep the workplace safe. As an employer, you should have a plan to check the pandemic and communicate the same with your employees. It is best to train the staff to fight against the virus and keep the workplace safe for themselves and other employees.
Increase the immunity
Immunity plays a vital role in fighting against the deadly coronavirus. The virus affects people with weak immune systems. Employers should educate the employees to boost their immunity. Employees can consult their physician to know the diet and supplements they should take to boost their immunity.
People with strong immunity may not get affected by the virus. If they get affected, there are higher chances of healing and survival against the virus. However, people with weak immunity and old age people are highly vulnerable. Therefore, employees should try to boost their immunity by following the things and medicines told by their physicians.
Overall health and weight
People with more or less weight are also vulnerable to illnesses and also the coronavirus. Therefore, employees should take care of their health and weight. Exercising regularly can help boost their immunity and maintain the right weight. They can check their weight at home using the bathroom scales. The washdown waterproof weighing scales can be used in bathrooms or any area of the home as they are not affected by water or moisture.
Conclusion
These are some things that every employer should do for their employee's health. Washing the hands, sanitizing them, and following the social distancing norms can help prevent the Coronavirus spread. However, education and awareness of the virus are essential for people. Employees should follow the precautions given in this post and as told by their physician, not only at the workplace but also at home. Following these little things can help prevent the spread of the virus and keep the employees in good health.