What Does Buying A Lightbulb And Choosing A Biometric Time And Attendance System Have In Common?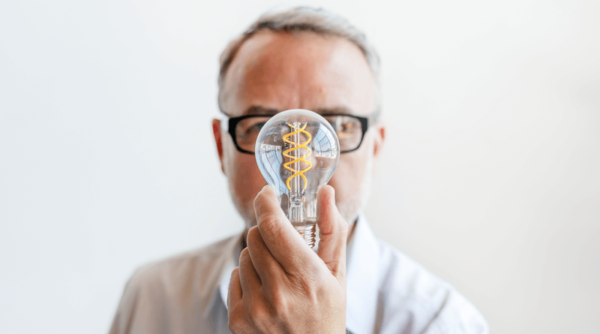 Choices Are All Around Us
In everyday life, we are constantly faced with choices.  Often times, it's a choice to purchase a product or service over another and we find ourselves evaluating the pros, cons, similarities, differences and other possible repercussions of our purchasing decision.  After carefully weighing the options based on our research and analysis, we always end up making the purchasing decision that seems logically correct.  Right?  Wrong.  Consumer behavior is fickle, always hard to pinpoint and never easy to predict.  We do know that there is one factor that usually supersedes all others when it comes down to choosing between products or services.  Price.
Buying A Lightbulb Isn't What It Used To Be
CloudApper Solution Community for UKG
We empower users to customize solutions
When features are needed to enhance UKG solutions, CloudApper is here to help. It's a non-technical toolkit for customizing UKG – easily build anything you want, share it with the community, and help everyone thrive.
Learn More
Top customizations shared by the UKG solution community

Capture time
with QR codes

Capture time
with biometrics

Track
employee tasks

Generate
custom reports

Schedule
employee tasks

Ensure
HR compliance

Send personalized
alerts

Capture time
with geofencing

Build custom
dashboards

Capture
time with NFC

Capture Job transfer
with barcode

Manage HIPAA
compliance
Think about the last time you went out to buy a light bulb.  It used to be in the old days that the toughest choice to make was what wattage to buy.  In modern times, it's different isn't it?  With a choice of whether to invest in the old-fashioned incandescent bulb that lasts 9 months (with normal use) vs the technologically advanced fluorescent bulb that lasts 9 years consumers are now faced with a more complex decision.  Do I pay a smaller price in the short term and forgo a larger amount of energy savings or pay a larger price now and reap the benefits of energy savings by reducing my consumption?  If you are like most Americans, you are on a budget and this becomes a harder decision than you may think.  Consider the purchase of a hybrid vs. a standard automobile for a moment.  There are essentially four factors to consider when deciding over the long term which is a more economical (and environmentally friendly) purchasing decision: fuel efficiency, service and maintenance costs, purchase price and tax breaks.  When you crunch the numbers, it is a proven fact that purchasing a hybrid vehicle is more economical and a much smaller carbon footprint on the environment.
What Does This Have To Do With Purchasing A Biometric System?
A University Dining Services vendor is considering implementing an automated time and attendance system for their employees to replace the old fashioned sign-in sheets they currently use.  Let's assume that the vendor has 3 locations on campus with 100 total employees and the average hourly wage is $12 per hour.  When faced with a choice of whether to implement RFID, barcode scanning or a biometric system, it can be tempting to choose the lowest price option without factoring in the long term return on investment (ROI).  Let's look at it from the perspective of tracking employee time and attendance:
Here are their estimated hardware and software expenses:
Option #1 – Punch Clock
Hardware Expense: $500 for the clock x 3 clocks
Total: $1,500
Option #2 – Barcode scanning cards
Hardware Expense: $400 for the barcode readers x 3 readers
Software Expense: $150 per PC x 3 PC's
Total: $1,650
Option #3 – Biometric  technology
Hardware Expense: $2,000
Software Expense: $500
Maintenance and Support: $100
Total: $2,600
When you stack up the options by price, this looks like an easy decision – the Punch Clock wins.  Now, let's take a look at the same three technologies from the perspective of return on investment over a one year period:
Option #1 – Punch Clock
74% of organizations experience payroll losses directly related to buddy punching and it is estimated that they can save 2.2% of gross payroll on average through the use of biometric technology.  Since purchasing a time clock does not eliminate buddy punching, if the vendor purchased a manual punch clock, their annual losses due to buddy punching would be:
Annual loss on payroll – $49,920 x 3 sites = $149,760
+
Payroll inflation = $6,900
+
Cost to print time cards – $200/month x 12 months x 3 sites = $7,200
Total: $163,860
Option #2 – Barcode scanning cards
Opting for barcode scanning cards also does not eliminate buddy punching because employees can carry each other's cards and punch in or out for another person.  Unless you hire a full time security guard to monitor the check-in stations during business hours you are subject to the same payroll losses that would be incurred from using a Punch Clock:
Annual loss on payroll – $49,920 x 3 sites = $149,760
+
Payroll inflation = $6,900
+
Cost to print barcode cards – $300/month x 12 months x 3 sites = $10,800

Total: $167,460
Option #3 – Biometric check-in technology
Using biometric technology eliminates the possibility of buddy punching and the need to print time cards or manufacture barcode cards.  Outside of the cost of the initial hardware and software needed to successfully deploy the biometric system and paying for maintenance and support, there are no additional expenses.  Implementing biometric technology for time and attendance has distinct advantages over other technologies to maximize return on investment as illustrated in our example above.  Although a return on investment calculation is only a portion of the total value of an investment, it should not be overlooked or discounted when choosing a time and attendance system.
Ever wondered how much buddy punching may be costing you per year?  Use our buddy punching loss estimate on-line calculator to see what you could be saving per year by using biometric technology.
What are some other factors to consider when researching time and attendance solutions?